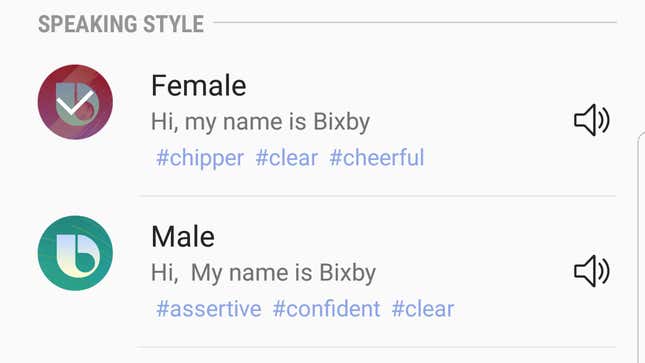 After months of delays, Samsung's much ballyhooed voice assistant Bixby is here—and users on social media are already noticing the company's loaded, sexist characterizations of its female and male voices.

Inside Bixby's "language and speaking style" menu, Samsung describes its female voice as "chipper" and "cheerful," while the male voice is described as "confident" and "assertive."

The words appear in the main Bixby menu where users are asked to pick a gender for the service's voice.
Samsung's Bixby assistant is rolling out today, although not all S8 owners will get immediate access to the service. In our own tests, we couldn't get the Bixby assistant to work, but we were able to access the above menu.
We've reached out to Samsung for a comment, and will update the story when we hear back.
Update 12:21pm: Samsung told Gizmodo that it's "working diligently to remove the hashtag descriptions from the Bixby service." The company said it's "constantly learning from customer feedback."