An explosion at the Husky Energy oil refinery in Superior, Wisconsin Thursday injured at least 11 people and forced many of the city's residents to evacuate. Douglas County has declared a state of emergency following the incident.
Fire officials said the blast occurred around 10am local time when a tank of crude oil or asphalt exploded, according to the Associated Press. The fire was initially reported to be extinguished at around 11:20am, though law enforcement warned residents the fire reignited less than an hour later. Douglas County officials said another tank caught fire at 3:15pm, according to ABC affiliate station WDIO-TV.
As smoke continued to billow from the building and into the surrounding community, residents of Superior were advised to evacuate. Those living within a three-mile radius around the refinery were urged to leave, including major residential area located within one mile of the plant. A 10-mile corridor south of the building where much of the smoke was heading was also cleared. Three schools and a hospital in the area were evacuated out of safety concerns.
Superior Mayor Jim Paine said the evacuation could affect the entire city, according to KSTP-TV in Minneapolis, Minnesota. which has a population of 27,000 people. He also warned an additional 10,000 to 15,000 people in rural areas could be evacuated if the fire continues overnight. "When in doubt, get out," Paine said.

G/O Media may get a commission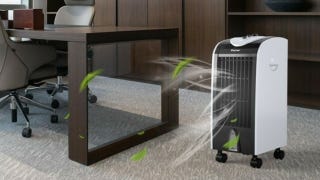 Save $10
Evaporative Portable Air Conditioner Cooler with Filter Knob
The smoke is considered to be harmful. The AP reported Oil smoke can often contain dangerous mixes of hydrocarbons and other chemicals that can have both short- and longer-term health effects on humans and animals, as well as a potentially devastating environmental impact.

Residents of Solon Springs, Wisconsin, a town about 30 miles from Superior, reported being able to see plumes of smoke overhead. The smoke was dense enough that it appeared on the National Weather Service radar. A contractor working inside the Husky Energy plant during the explosion told WDIO-TV the blast sounded like "a sonic boom."
While no deaths have been reported as a result of the explosion, CBS reported at least 11 people are being treated for varying degrees of injuries, including one victim who is considered to be seriously hurt as a result of a blast injury. WBAY, an ABC affiliate in Green Bay, reported that all victims were considered to be in stable condition as of this afternoon.
A contractor told WDIO-TV the explosion took place while crews were working to shut down the plant for repairs. He told the station that shutdowns can be some of the most dangerous times for oil refineries. A 2010 study found that maintenance shutdowns often result in higher exposure to chemicals and risk for those involved in the process. Companies also often bring in more workers and contractors to help expedite the process, resulting in more people being put at risk.
The refinery, operated by the Canadian-based energy company Husky Energy, primarily processes heavy crude oil from the Canadian tar sands in Alberta and lighter crude oil from North Dakota, according to the AP. It is capable of processing as many as 50,000 barrels per day and has a storage capacity of 3.6 million barrels of crude oil.

KMSP-TV in Minneapolis reported that the factory was subject to citations from the U.S. Department of Labor's Occupational Safety and Health Administration in 2015 for emergency response and flammable liquids violations. The refinery, operated by Calumet Superior LLC at the time, was fined $21,000. Husky Energy took over the site in 2017. OSHA is investigating Thursday's explosion.
Husky Energy is involved in an ongoing court case over violations of local and federal environmental laws following a 2016 pipeline spill that dumped nearly 60,000 gallons of heavy oil into the North Saskatchewan River, according to The Canadian Press. The incident forced the cities of North Battleford, Prince Albert, and Melfort to shut off water intakes for nearly two months.
[Associated Press, CBS, WDIO-TV, KMSP-TV, KSTP-TV]