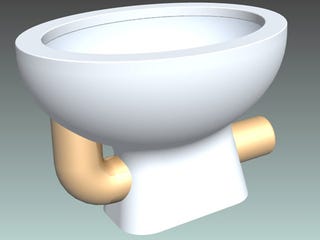 Hey jubblies, just less than one week left for you to make your entry to our Made in Eureka contest. Coming off from our last entry, which was a great example of what not to do, this entry by Ethan Allison is one that's pretty decent.
It's a toilet that can't overflow, which is made out of a regular bowl and an extra pipe that drains the water in case the water level gets too high. Ethan isn't an actual designer, but fanciful inventions that are pretty cool and useful are what we're looking for. He sent in a bunch of other renders as well, but we'll post them when it comes time to vote.
Hit the link below to see how you enter.
Contest [Gizmodo]