Chris McKay talks about why Nightwing needs his own movie. There's more talk about the next X-Men film. The screenwriter of Arrival talks up the future of Valiant's comic book movies. Plus, new footage from Power Rangers, and fantastic new posters for Twin Peaks and The Flash. It's time for Spoilers!

Guardians of the Galaxy Vol. 2
Amazon's new storefront for the movie's merchandise is broken down by each of the main heroes in the movie... and then, for some strange reason, the obscure Marvel superhero Darkhawk. Which is a very bizarre inclusion, unless Darkhawk actually has something to do with the movie.
Now, hear us out—especially as merchandise lines are notoriously unreliable when it comes to discerning information about a movie. But it's kind of bizarre that Darkhawk, a relatively obscure Marvel hero who's flitted about across the Marvel cosmic over the years, would get such a prominent place in this banner. Especially instead of someone like, say, Nebula, a character we know is in the movie, as a member of the Guardians to boot. It's even stranger when we know that the only Darkhawk merchandise coming out is actually a single figure in the new wave of Hasbro Marvel Legends figures that ties into the movie, although that toy is explicitly based on the comics version of the character. Why would Darkhawk need his own section of merchandise for just one figure, and why just him and not any of the other comics characters in that wave like Nova or Angela?

G/O Media may get a commission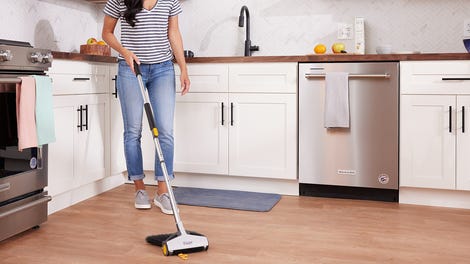 BOGO 50% Off
Flippr - BOGO 50% Off
Almost a year ago to the day, James Gunn teased that his favorite Marvel superhero was in Guardians 2. At the time, Mantis had already been confirmed for the movie, so it probably wasn't her. Could that mystery character be Darkhawk? Probably not, but it's fun to wildly speculate every once in a while. [h/t Myles!]
---
Nightwing
Chris McKay appeared on the Shanlian on Batman podcast following the news that he'll bring the finest butt in comics-dom to the big screen to shed some light on his fondness for Dick Grayson, and what the Nightwing movie may entail:
Bruce Wayne in my mind came from privilege and I think that's why he's more dour and angry. He's self-made as far as his becoming all of these cool things we like him for… Dick Grayson didn't come from that. Dick Grayson came from a circus family. Essentially people who aren't rich and they are self-made. They're entertainers. They're gymnasts. They're people who live hand-to-mouth and that's something that informs him and his attitude… he's a fascinating guy to me, because he had all the same things happen to him. He's got some of the same negatives as Bruce Wayne and then from a society standpoint — obviously he was adopted into Bruce Wayne's life… but he didn't start that way. He's this guy who has all these negatives and then even more negatives and yet he remains… Those are things why I like Dick Grayson, why I like the idea of Nightwing as a movie.
---
X-Men: Supernova
Nicholas Hoult told HeyUGuys he believes that Beast is indeed returning for the next X-Men movie—the one that we still don't know the official title of, and yet has to be officially even acknowledged, but most people are assuming the rumors are true about and it's a retelling of the Dark Phoenix Saga from the comics:
I think I'm involved. I'd be happy to go back – I love playing that character and I love everyone involved and I know there's one in the works…
---
The New Mutants/Deadpool 2
Simon Kinberg confirmed both movies are aiming for a 2018 release date, with production on both beginning this year:
We're gearing up to make both of them this year. New Mutants we're waiting on a new draft of the script, which we're all very excited about. Josh Boone has been prepping that movie. Josh is someone who is a lifelong, hardcore fan of New Mutants, and the plan is to make that movie late spring, early summer of this year, and have it come out next year.

Similarly with Deadpool 2, Ryan and the guys have been working hard on the script. We have a really good script for that movie, and we're into the casting process right now for some of the new characters. There aren't a lot of new characters, but there are some big ones, as I'm sure you can imagine. And the plan would be to shoot that movie this year as well and have it come out next year. So potentially next year you will have a surfeit of X-Men and X-Men-related movies in theaters.
[Collider]
---
Bloodshot
Arrival screenwriter Eric Heisserer revealed he's written a Bloodshot screenplay for Valiant:
I'm actually really excited about Bloodshot. I've done some work…in fact, I've just turned in a draft with a director attached and I'm very excited to see if that moves the needle at Sony. But he's such a fascinating character in his own right. From Harbinger, Faith is such a remarkable and fresh character. I had such fun writing her. If I ever felt a little inundated or overwhelmed by the work I had to do on Harbinger, I'd just pick up an issue of Jody Houser's Faith title and I'd read some pages and get excited again.
Heisserer also commented on the trajectory of the Valiant Cinematic Universe:
The biggest hurdle is to make sure you're creating a world and you're creating characters that feel distinctly different from a Marvel movie or a DC movie. They have to occupy their own space. They can't feel like a carbon copy of something that has come before them. The good news is that all of these characters are different in their own rights. You just have to find that and embrace it and make sure that you're doing something that looks and feels new. Beyond that, I don't worry too much about shared universes or setting up sequels or anything like that. The goal with each of these films is to make great stories in their own right that stand on their own with a beginning, middle, or end. If we are so privileged and honored as to come back and revisit them later, assuming the public likes them, then great. We'll find a way to make another story. At this point in time, it's just about doing justice to these characters in the time we have.
[/Film]
---
Power Rangers
A new Japanese subtitled trailer—which, when you think about it, is a pretty strange scenario—highlights the Zords, Goldar, strong-ass holograms, and lots of Putty crumblin'.


---
Wonder Woman
Here's a new promo image of Diana in action, courtesy of the cover for the film's junior novelization.


---
Smurfs: The Lost Village
A new Smurfette-centric preview features Meghan Trainor's "I'm a Lady."
---
Transformers: The Last Knight
Here's a super brief interview with Josh Duhamel claiming the new movie is "based on a true story" at Toy Fair. I wanna know where the hell Josh Duhamel has seen some actual time-traveling giant transforming robots, if that's the case.
They really get into the mythology of where the transformers came from, how long they've been around and how instrumental they were in a lot of historical events. It's based on a true story.

What we just saw is about 55 minutes of it and it's pretty spectacular. It really is. [Michael Bay] just blows me away. His ability to understand the scope of things is incredible. I'm very proud of what we did last summer.
---
Beauty and the Beast
You're invited to be the guest of Beast's staff in a new TV spot.
---
Iron Fist
Finn Jones discusses the controversy surrounding the series' decision to keep Danny Rand as a white who knows martial arts, beating up Asian bad guys:
You know, here is what I'm going to say about it. I get where that frustration comes from. I get the need for diversity and equality in television and film… well, actually in every aspect of life. Right now we live in a culture and a world where we are very unequal in politics, in economics, and in culture. We are being fucked over massively by the top dudes. I stand up for people, I stand up for people across all borders.

Danny Rand is not a white savior. Danny Rand can hardly save himself, let alone an entire race of people. He is a very complicated, vulnerable individual. He doesn't just show up, like, 'Hey dudes, I've just learned martial arts! I'm going to save the world.' Actually, it's the complete opposite. He's gone through and suffered immense trauma and he is struggling to claim his own sanity and identity back.
[Buzzfeed]
---
Marvel's Guardians of the Galaxy
The one-hour (across two episodes) second season premiere airs March 11 on Disney XD. Here's a synopsis teasing a team-up with Earth's mightiest heroes:
"Stayin' Alive" (9:00 p.m., EST/PST) – While trying to dispose of Thanos' asteroid, the Guardians discover it has been taken to a secure facility that belongs to the Avengers.

"Evolution Rock" (9:30 p.m., EST/PST) – The Guardians and the Avengers team up to find out what powerful secrets lie inside Thanos' asteroid.
---
Supergirl
The Danvers family reunites—and Jeremiah Danvers meets Maggie—in a new clip from tonight's episode.
---
Twin Peaks
Two new posters for the revival series have been released. You can practically hear the theme song oozing out of them. [TV Line]


---
The Flash
Finally, the CW has released a slew of new photos from this week's "Attack on Central City." See the rest at the link, but know that none of them are better than this poster of Grodd and Flash staring each other down. [Coming Soon]
---
Additional reporting by Gordon Jackson. Banner art by Jim Cooke.