A lot of people in the scifi/fantasy fiction community are still hurting after two seasons of Hugo Awards drama, but another competition is trying to bridge the divide.

DragonCon, Atlanta's annual science fiction and fantasy competition, released the nominee list (see below) for the first-ever Dragon Awards this week. It includes several genre novels, comic books, films, and, interestingly, video and board games.
The Verge called the nomination list a "bit of a compromise between various factions within fandom," with nominees ranging from the popular to the obscure, with even some self-published works. Part of this is attributed to the fact that you don't need a membership in any organization to vote for the Dragon Awards—they're free and open to the public.
It also could be because it doesn't look like either Sad Puppies or Rabid Puppies released Dragon Awards-specific slates.
G/O Media may get a commission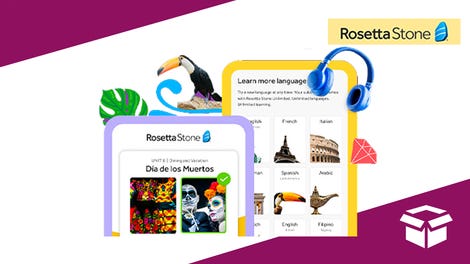 Extra 20% off
Rosetta Stone Lifetime Subscription - All Languages
Slating became a major problem last year with the 2015 Hugo Awards, when most of the nominees came from lists created by online groups Rabid Puppies and Sad Puppies (though Sad Puppies have called their lists recommended works). In retaliation, many people voted against the Puppies' picks, going so far as choosing "No Award" when a category only had Puppies' nominees.
Fast forward to 2016, and the problem resurfaced. Sad Puppies withdrew a bit after the controversy of 2015, but Rapid Puppies creator Theodore Beale (aka Vox Day) doubled down, again using the Hugo Awards as an outlet to get works he liked on the ballot— especially from his own publishing company, Castalia House.
The 2016 Rabid Puppies slate has dominated this year's list of nominees, including yet another "Best Editor" nomination for Beale himself. (A few nominees have withdrawn from the competition in response.)
In comparison, a couple of Castalia House books were nominated for Dragon Awards this year, but the presence is nowhere near the onslaught that's overtaken the Hugo Awards two years in a row. Beale has also released a list of works from the Dragon Awards nominations that he thinks should win.
Even though it's a new year and a new award, the wounds of the Hugo Awards' controversy still blur into DragonCon's list. Author John Scalzi, who was very vocal against Sad and Rapid Puppies both years, confirmed this week that he's declining his Dragon Awards nomination for The End of All Things, along with any other nominations this year, because he wants to focus on other people's work instead.
The Hugo Awards happen next week in Kansas City, while the Dragon Awards will be at Dragon Con in Atlanta on Sept. 5.
Here's the full list of nominees. You can register to vote here:
Best Science Fiction Novel
The Life Engineered, J-F. Dubeau (Sword & Laser)
Raising Caine, Charles E. Gannon (Baen)
Ancillary Mercy, Ann Leckie (Orbit)
Agent of the Imperium, Marc Miller (Far Future Enterprises)
Aurora, Kim Stanley Robinson (Orbit)
Somewhither: A Tale of the Unwithering Realm, John C. Wright (Castalia House)
Best Fantasy Novel
Asteroid Made of Dragons, G. Derek Adams (Sword & Laser)
Blood Hound, James Osiris Baldwin (Gift Horse Productions)
The Aeronaut's Windlass, Jim Butcher (Roc)
Son of the Black Sword, Larry Correia (Baen)
Changeling's Island, Dave Freer (Baen)
The Fifth Season, N.K. Jemisin (Orbit)
Grave Measures, R.R. Virdi (Self-published)
Best Young Adult / Middle Grade Novel
Six of Crows, Leigh Bardugo (Holt)
Changeling's Island, Dave Freer (Baen)
Steeplejack, A.J. Hartley (Tor Teen)
Trix and the Faerie Queen, Alethea Kontis (Self-published)
The Shepherd's Crown, Terry Pratchett (Harper)
Carry On, Rainbow Rowell (St. Martin's Griffin)
Calamity, Brandon Sanderson (Delacorte)
Updraft, by Fran Wilde (Tor)
Best Military Science Fiction or Fantasy Novel
Blood in the Water, Taylor Anderson (Roc)
Chains of Command, Marko Kloos (47North)
Wrath of an Angry God, Gibson Michaels (Arc Flash)
Allies and Enemies: Fallen, Amy J. Murphy (Self-published)
The End of All Things, John Scalzi (Tor)
Hell's Foundations Quiver, David Weber (Tor)
The Price of Valor, Django Wexler (Roc)
Best Alternate History Novel
Germanica, Robert Conroy (Baen)
1635: A Parcel of Rogues, Eric Flint & Andrew Dennis (Baen)
1636: The Cardinal Virtues, Eric Flint & Walter H. Hunt (Baen)
Deadlands: Ghostwalkers, Jonathan Maberry (Tor)
League of Dragons, Naomi Novik (Del Rey)
Bombs Away: The Hot War, Harry Turtledove (Del Rey)
Best Apocalyptic Novel
Ctrl Alt Revolt!, Nick Cole (Castalia House)
Chasing Freedom, Marina Fontaine (Self-published)
Dark Age, Felix O. Hartmann (Self-published)
The Fifth Season, N.K. Jemisin (Orbit)
The Desert and the Blade, S.M. Stirling (Roc)
A Time to Die, Mark Wandrey (Henchmen)
Best Horror Novel
Honor at Stake, Declan Finn (Caliburn)
Alice, Christina Henry (Ace)
An Unattractive Vampire, Jim McDoniel (Sword & Laser)
Souldancer, Brian Niemeier (Self-published)
Chapelwood, Cherie Priest (Roc)
Disappearance at Devil's Rock, Paul Tremblay (William Morrow)
Best Comic Book
Astro City
Civil War II
Daredevil
DC Universe: Rebirth
Ms. Marvel
Providence
Saga
Best Graphic Novel
The Sandman: Overture, Neil Gaiman & J.H. Williams III (Vertigo)
Chicago, Glenn Head (Fantagraphics)
March: Book Two, John Lewis & Andrew Aydin (Top Shelf Productions)
Virgil, Steve Orlando (Image)
Sacred Heart, Liz Suburbia (Fantagraphics)
Killing and Dying, Adrian Tomine (Drawn & Quarterly)
Best Science Fiction or Fantasy TV Series
Daredevil
Doctor Who
The Expanse
The Flash
Game of Thrones
Jessica Jones
Outlander
Best Science Fiction or Fantasy Movie
Ant-Man
Captain America: Civil War
Crimson Peak
Deadpool
The Martian
Star Wars Episode VII: The Force Awakens
Best Science Fiction or Fantasy PC / Console Game
Darkest Dungeon by Red Hook Studios
Fallout 4 by Bethesda Softworks
Metal Gear Solid V by Konami Digital Entertainment
Overwatch by Blizzard Entertainment
Undertale by Toby Fox
XCOM 2 by 2k Games
Best Science Fiction or Fantasy Mobile Game
Quaser One by Emre Taskin
PewDiePie: Legend of the Brofist by Outerminds Inc.
Fallout Shelter by Bethesda Softworks
Hyper Burner by Patrick Cook
Star Wars: Galaxy of Heroes by Electronic Arts
Best Science Fiction or Fantasy Board Game
Pandemic: Legacy by ZMan Games
Star Wars: Rebellion by Fantasy Flight Games
Blood Rage by Cool Mini or Not
Talon by GMT Games
Monopoly: CTHULHU by USAopoly
Codenames by Vlaada Chvatil
Best Science Fiction or Fantasy Miniatures / Collectible Card / Role-Playing Game

Deluxe Tunnels & Trolls by Flying Buffalo
Magic the Gathering: Shadows over Innistrad by Wizards of the Coast
Magic the Gathering: Battle of Zendikar by Wizards of the Coast
Mouse Guard 2nd Edition by David Petersen & Luke Crane
Call of Cthulhu Roleplaying Game (7th Edition) by Chaosium Inc.
Star Wars: Armada by Fantasy Flight Games
Clarification: fixed a book title from Fallen to Allies and Enemies: Fallen.