This week at TreeHugger: Take a ride on the eGo Cycle, the bicycle that you don't have to pedal. With all the advances in processors, you'd think we'd be able to cobble together a computer that doesn't waste energy or make too much noise; can we finally do it this year? LEDs finally hit the mainstream, with a revolutionary...desklamp. At least it will last for fifteen years. Lastly, the Wrightspeed X1 electric car hits the track to drag-race a Ferrari; guess who wins...
This week, we hopped on board with the owner of an eGo Cycle, the "geek chic" electric scooter that has been garnering lots of attention ever since it appeared in Vanity Fair earlier this year (though we've known about it since 2004. We're just saying...). With a range of about 25 miles and a top speed of 24 mph, it isn't our first choice for a cross-country road trip, but it does the around-town jobs quite nicely. If you can get there on a bicycle, but don't want to work up a sweat doing it, the eGo is for you. Our intrepid field tester has nothing but positive things to report about the eGo; unfortunately it doesn't come with a stick or other blunt object to help keep the chicks off you when you ride it...oh well, you can't always get what you want.
Every year about this time, our resident architect thinks about how he can make his computer run drawing programs faster while using less power and canceling all that damn fan noise. The last attempt involved a big honking Antec Sonata case and an expensive CPU fan and it still makes him crazy. This year there is a real opportunity to build a computer that is really cool and comsumes very little power, and while Intel is winning the speed and power awards with its new Core Duo, AMD cleans their clock when it comes to saving power and heat. The 3800+ X2 ADD, under full power, tested at 25 watts, less than half of the best Intel chip; that's barely enough to need a heat sink, let alone a fan. However, even the Intel uses half the power of his current P4 hotplate — a great improvement. What's it going to be?
G/O Media may get a commission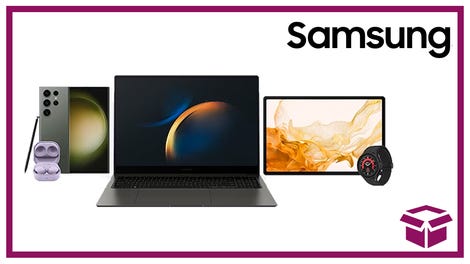 24 hour deals
Discover Samsung - Daily Deal
We've been waiting for the day when we could walk down the street and pick up something that burns an LED bulb. Something. Anything, as long at it emitted light from its diode. We rejoiced when we discovered that day had arrived, and in a scene roughly akin to Christmas morning, we unwrapped...a desklamp. A damned desklamp?! We now have 20,000 hours to ponder how the LED will save the world as we bask in the LED's warm glowing warming glow.
Lastly, we wrote about the Wrightspeed X1 electric car last July, and heard some pretty big talking about how fast it was going to go. Ferarri-fast? Porshe-fast? We could only daydream at the time; today we finally get to see it in action. We stumbled upon a video of the X1 on the track, dragging with the aforementioned cars; to our glee (and most of the world's surprise, we imagine) the X1 out-accelerated, by a pretty big margin, both the Ferrari and Porsche. Comparing them is apples to oranges, we know, but we like them apples.
TreeHugger's EcoModo column appears every Tuesday on Gizmodo.