This week at TreeHugger: We find a portable solar panel to charge all of our gadgets, from mp3 player to cellphone. According to Greenpeace, many computers are still ripe with toxins, with high levels of nasty stuff in HP and Apple laptops. We chat with John Shegerian, founder of Electronic Recyclers, about e-waste, why there's so much of it, and what it's like to hobnob with Governator Schwarzenegger through China. Finally, check out the Sun Jar, which collects, stores and then emits (real) sunshine (sorta) after the lights go down.
We're loving SolarStyle's small, handy-dandy solar charger. It has a built-in battery that, with a little love from the sun, will power just about any gadget you can plug into it. With this single portable solar panel, we can power an MP3 player, a portable amplifier, a set of battery-powered Sony surround-sound speakers, a cellular phone, a digital camera, two LED lamps, an LED booklight, and an LED flashlight (though not all at once). It feels pretty good to stick it to the local utility, and you get a good tan, too.
G/O Media may get a commission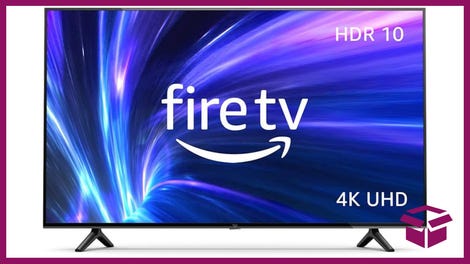 42% Off
Amazon Fire TV 50" 4K Smart TV
If you're reading this, then you're on a computer. If it's a laptop, the computer may even be on you. Greenpeace recently did an in-depth lab analysis of five popular laptops and found some scary stuff. Testing for heavy metals, PVC, and bromated flame retardants (which have been shown to also act as human retardants), Greenpeace found laptops to be ripe with toxins. The five models tested were from Acer, Apple, Dell, HP, and Sony; HP was the only computer found to contain lead, and Greenpeace has since downgraded HP's status in their Toxic Technology report card. While chromium was present in all models, Apple's new MacBook was found to have the highest level. More evidence that it's not a good idea to get too cuddly with your laptop, no matter how much RAM it has.
John Shegerian is a busy guy; as the founder of Electronic Recyclers, he's got a lot on his plate, including overseeing the largest electronics recycling operation in the state that recycles the most electronics (California). We managed to catch him between calls to Fortune 500 CEOs and accompanying California governor Arnold Schwartzenegger to China,and chatted a little bit about keeping e-waste out of landfills, designed obsolescence and the "crisis situation" that has befallen the consumer electronics industry.
Lastly, just like a jam jar stores jam, the Sun Jar stores sunshine. It looks like a jam jar, but instead of sweet sticky stuff, it's jammed full of solar cells, batteries and LEDs that it sucks in sun rays all day and gives them back at night. No switches and less practicality, it just sits there and looks sweet; just don't try to spread it on your toast.
TreeHugger's EcoModo column appears every Tuesday on Gizmodo.