This week on TreeHugger, house boats turn into floating farms, mototaxis go solar, computers that learn from watching videos, time-lapse video of the Deepwater Horizon oil spill, and more.
NASA
Releases Time-Lapse Video of Gulf Oil Spill
This two-minute video by NASA shows a space-based view of the burning
Deepwater Horizon oil rig and the horrifying oil spill that has
followed. The images—taken using the Moderate Resolution Imaging
Spectroradiometer (MODIS) instrument—were hand-picked to best
showcase the disaster. The images begin with the oil rig explosion and
run through May 24th.

Oh, Shiny! 77% of iPhone 4 Purchases Are Upgrades From Previous
Models
Apple Insider states, "Apple has successfully built a recurring
revenue stream in which most users will upgrade every one to two
years." The situation proves something about green gadgets — there's
no such thing.

E-ink Reveals Flexible, Extra-Tough e-Paper Display
Companies from Sony to Amazon are vying to make the perfect device for
students, but what they'll all need is a display screen that's tough
to injure. And that's what E-ink is showing off.

Smart Computer That Learns from Videos Can Make Traffic More
Efficient
A new computer can learn from watching moving objects, analyzing
things like street scenes and figuring out patterns and habits of
things like moving vehicles.
G/O Media may get a commission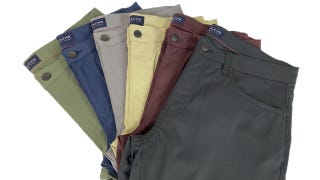 JACHS NY Fall Stretch Tech Pants

Security Is Next Multi-Billion Dollar Boom for Smart Grid
According to a new report by Pike Research, 15% of all smart grid
investments over the next few years will be for security, representing
about $21 billion by 2015. What's in it for new start-ups?

Polluting Two-Stroke "Mototaxi" Goes Solar
An ingenious professor at the University of San Marcos has designed a
solar panel retrofit of the two-stroke "mototaxis" that fill the
streets of the city which can run on pedal-power or a battery hooked
to the solar panels.

Sony Ericsson Adds The Cedar Cell Phone to GreenHeart Line
The Cedar features business practicality with social networking tools
necessary for any mobile device these days...and it has a few nice
green(er) features we can appreciate.

iPhone App Lets New Yorkers Share Car Service Rides
A new application called "Weeels", may alleviate some of the pain by
giving riders the ability to order and share a car service for
immediate pick-up—a faster, more customizable kind of public transit.

Boatanic Design Turns Boat Houses Into Perfect Platforms For Floating
Gardens
Boatanic, a combination of "boat" and "botanical," is a new urban
farming plan that utilizes house boats as greenhouses.
TreeHugger's EcoModo
column appears every Tuesday on Gizmodo.