This week on TreeHugger, air purifiers powered by your kitty cat, a 24-carat gold folding bike, a pedal-powered washing machine, and a roadkill database in need of volunteers.
Your Idle Computer Can Solve Global Water Problems
IBM's World Community Grid launches research for clean water on three continents
Humidifier and Air Purifier Powered by... Your Cat?
One designer figured the energy your cats put into playing with balls of wool should instead be put toward batting this thing around the living room floor, drawing up enough charge to filter out the dust.
Retroreflector Tie A Bright Entry in Seoul Cycle Design Competition
The Retroreflector Tie is a fashion statement sure to add more flare to a functional activity — getting to work on two wheels.
G/O Media may get a commission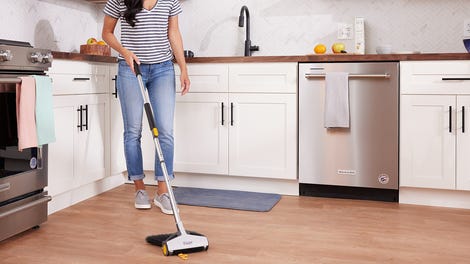 BOGO 50% Off
Flippr - BOGO 50% Off
Could Subway Trains Generate Power with Regenerative Braking?
The Southeastern Pennsylvania Transportation Authority (SEPTA) is experimenting with regen braking, a move that it estimates could slash its electricity bills by "up to 40 percent and generate millions of dollars a year."
Walk Score Adds Transit to its City Rankings
Walk Score will now let you track access to transit too, as well as a cost calculator to figure out just how much you'll pay to get around at any particular location.
24-Carat Gold-Plated Folding Bike. Any Takers?
We're really not sure what to make of this pimped-out 24-carat-gold-plated Brompton that's just gone on sale on eBay. We do know it will take a brave soul to ride that thing in public.
Pedal-Powered Washing Machine Gets Big Company Backing
Supposedly 20 minutes of work is enough to wash one load of clothes on cold cycle. But could it work at home?
Weird Solar Device of the Day: Solight Concept for Indoor Plants
A new concept design by Lee Ju Won is the ultimate middle man. It sticks to a window to harness the power of the sun to run LEDs that provide light to potted plants that sit under it. Um, what's wrong with this picture?
Plumen Proves We Want Weirdly Shaped Light Bulbs
A couple years ago, we told you about a concept light bulb called Plumenmade it from concept to market, proving we light strange twists to our CFLs.
The Stylish Watt-Lite Creates An Energy Use Infographic in Real Time
The Watt-Lite is a rather inventive form of smart meter that finds a straightforward way of demonstrating how much energy a building is using in the style of real time infographic.
California Roadkill Database to Make Highways Safer for Animals
Hundreds of volunteers are filling out the California Roadkill Observation System, which will help clarify where and why cars strike animals. And perhaps come up with solutions.