This week on TreeHugger, crazy arm-powered tricycles, an app that turns your iPhone into a TomTom, wood floors that fold into stools, curvy cubicles for outside offices, and more.
Smiling Switch Makes You Happy to Conserve Electricity
Is AI Moving Too Fast? | Future Tech

Would making your switches look adorable help you to conserve energy? A design by Zhou Yide, Euphe Mo, Hang Zhou & Christine Liu tests the theory.
US Home Energy Efficiency Improved Since 1970, So Why Are The Bills The Same?
That's right, we haven't budged on how much our meters read at the end of each month, despite our refrigerators using about 51% less electricity. Why?
G/O Media may get a commission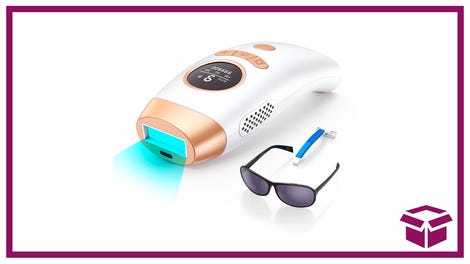 58% Off + Coupon
IPL Hair Removal Device
iFixit's Break Down of Apple TV Shows the Gadget's Bigger Green Purpose
iFixit founder Kyle Wiens points out that even this tear down has a very green side to it, and the stories focusing on the "geek-ness" of it were missing the larger point.
Researchers Use Second Life to Gauge People's Green Attitudes
Academics at the University of Derby, UK, figure that there's no better place to study how people react to green issues than in the alternative universe of Second Life. The goal is to find out how likely people are (in real life) to do the green things that help lead to a more sustainable lifestyle.
Farmers' Market Finder iPhone App Keeps You Rolling in Fresh Food
There's another app that recently released an improved version that can add to the list of helpful food foraging tools — Farmers Market Finder.
Lotus Unveils Pint-Sized "City Car" PHEV Urban Commuter
This concept, which was just unveiled at the Paris Motor Show, is kind of like a better-looking and more advanced Toyota iQ. Of course, the looks are subjective, but the drive train isn't.
The RowRay Landcart — Wheels For Those With Stronger Arms Than Legs
For anyone who likes the idea of biking as transportation, but would rather row than pedal, there's a cool concept just for you — the RowRay.
iPhone App for Cyclists Turns Cell Phone Into a TomTom
The app shows the best bike-friendly routes to get from here to there, and displays a map for you to check during your journey. It not only keeps you on bike paths, but also shows you short-cuts that can trim time off your ride. And it has a whole bunch of other handy features we like.
Sustainsia's Eco-Workpod: Portable Office Shed Is "All About The Curves"
Ah, cubicles: you can either ditch 'em for an open-plan office space or put all the bells and whistles you can on them. Or you might even forgo the office entirely to work from home instead — perhaps in your very own eco-friendly version of the backyard office shed, like this one designed by Oakland-based design company Sustainsia.
Tastefully Reclaimed Sound: Rebaroque's Upcycled Speaker Frames
Here's an artsy twist to showcasing a more 'sustainable sound': take a closer look at these custom-made "sound frames" by Brooklyn-based art duo Rebaroque, made from reclaimed picture frames, fabric and speaker parts. Best of all, you can hook these up as part of your sound system — a combined art- and audiophile's dream.
Neat Wood Mat Folds Into A Stool, Disappears In The Floor When Done
Another product from Colombian studio DosUno Design (whose Rubix transformer furniture set we reviewed yesterday), Deckstool is a simple wood mat that folds into a stool. Apart from being perfect for small spaces, it's also flat pack and simply produced with few materials.
TreeHugger's EcoModo column appears every Tuesday on Gizmodo.