On TreeHugger, electric trikes for big kids, young people prefer iPhones to cars, sci-fi medical technologies that are real, a battery built from used coffee pods, and jet engine tech used for lightbulbs
Smart Phones That Shift Shape To Send Alerts to Users
What if, rather than get an audio or visual cue from your smart phone that your battery is low or that you've received a new message, the phone changes shape? This new technology isn't so unrealistic; in fact, it's already underway.
8 Medical Technologies That Seem Straight From Sci-Fi
We have a soft spot for inventions that can radically improve someone's life, and with the upcoming premiere of Dean of Invention on Planet Green tomorrow night, it got us thinking about some of the more radical technologies we've seen come out of labs lately. Check out 8 of our favorites, including a brain-controlled wheelchair, legs that help paraplegics walk again, nano-ink tattoos that monitor blood sugar in diabetics, and more.
G/O Media may get a commission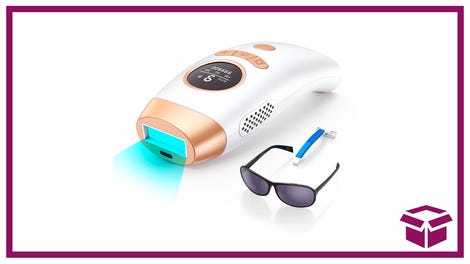 58% Off + Coupon
IPL Hair Removal Device
Awesome Steampunk Solar Lamp Made From Scrap Parts
Etsy sellers come up with the best stuff! This solar powered lamp is crafted our of used parts from a solar lawn lamp and looks way better than anything you could pick up in the garden section of a bigbox store.
New Study Says Young People Want Apartments, Not Houses; iPhones, Not Cars
Do people really want to live in high density apartments if they have the choice? A new Canadian study indicates that for a number of reasons, more and more people do.
What Are Nanomaterials and How Will They Work in Electric Cars
Tiny materials make a huge difference, it turns out. Part of our special feature on Electric Cars.
GE Uses Jet Engine Cooling Technology in 1,500-Lumens LED Bulb
Is this GE's new miracle bulb for modern lighting?
Onya Cycles' Electric Trike Zooms at 20mph with Rider & Cargo (Video)
Saul Griffith's latest project is an electric tricycle designed to take the place of cars for short, local trips. It looks awesome.
Nespresso Battery: Feel-Good Phony Environmentalism And Greenwashing
Is a battery made from old coffee pods actually green?
Dean of Invention's Joanne Colan Dishes on Game-Changing Gadgets
Check out her favorite discoveries — from helping people regain lost abilities to mitigating climate change — and how this show will shape the next generation of inventors.
High-Tech Robot Unveils Mysteries of Antarctic Ice
For researchers, getting information about life around and conditions of the frigid waters, but this high-tech robot is helping break the ice, so to speak.
How To Offset Half of All Airline Carbon Emissions With Human Urine (Video)
Say what??
TreeHugger's EcoModo column appears every Tuesday on Gizmodo.