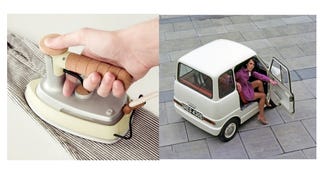 This week on TreeHugger, solar-powered t-shirts that get you to work out, plastic bottles that can replace 50-watt bulbs, our guide to Japan's nuclear power plant problems, Google adds future-forward features to maps, and more!
DIY Solar Powered T-Shirt Motivates You to Work Out
The Motivational Moody Workout T-Shirt created by Lingon at Instructables was built with the intention to motivate the wearer to do more than stand around.
Pedal Power Meets Photovoltaics via Solarbike
Solarbike specialises in electric conversion kits for bicycles — and the finished product is pure gadget goodness.
"Repair-Ware" Household Gadgets Designed To Last Forever With Easy Fixability
I am completely in love with this concept for small household appliances by designerSamuel James Davies.
FIRST Green 'e-Watt Saver' 7W LED Lightbulb (Product Review)
The FIRST LED bulb is a 7-watt/450 lumen LED light bulb that replaces up to a conventional 60-watt household light bulb. Check out our test run of the greener bulbs.
DIY Skylights From Used Water Bottles Replace 50-Watt Bulbs
Simply placing a bottle of water in a hole in the ceiling can light up a room with the same brightness as a 50-watt light bulb! Residents have better lighting and are using less electricity. Check out how it works in the video.
Kinko's For Kidneys Is Just Around The Corner
Can we really "print" organs for peole, rather than waiting for donors?
Ford Introduces Electric Car at Geneva Auto Show- In 1967
Check out an EV presented by Ford at the Geneva Auto show 40 years ago!
PET Bottles Recycled Into Bright Lamps, Table Legs, Flower Pots In Chile
Motivated by a workshop at the Chilean Catholic University during her studies, designer Sofia Montero developed ADN PET: a line of products from tops and bottoms of recovered PET bottles.
Google Maps Adds Feature to Find EV Charging Stations
Google, a long-time supporter of electric cars and plug-in hybrids, has added information about EV charging stations to Google maps.
Mini-FAQ About Japan's Nuclear Power Plant Crisis
Sadly, unless there's a big catastrophe, few people care to learn about nuclear power, so when things go wrong, people aren't sure what is going on and this can lead to panic. I'm no nuclear expert myself, but in this post I will share what I've learned about this situation and answer the most pressing questions that people might have ("Can it blow up? Is it another Chernobyl") to the best of my knowledge.
TreeHugger's EcoModo column appears every Tuesday on Gizmodo.