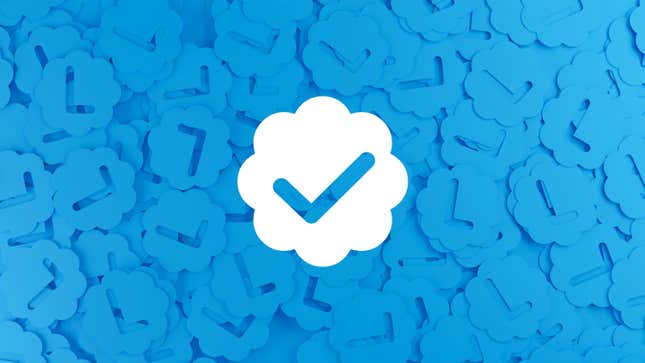 Twitter CEO Elon Musk has revealed that he's paying for a few celebrities on Twitter to keep their blue checkmarks. The chosen ones include LeBron James and William Shatner, who previously fumed about having to pay $8 a month and said they wouldn't cough up the cash.
On Thursday—or 4/20, as Musk would gleefully remind us—legacy blue checkmarks for notable figures, including celebrities, journalists and politicians, largely disappeared from the accounts of those who had refused to pay $8 for Twitter's Blue subscription product, which is now required to have a blue checkmark. However, there were some blue checkmarks that remained, although their holders swear they didn't pay for them. 
One celebrity who maintained his blue checkmark was author Stephen King, which was strange right off the bat. King had previously criticized Musk's plan to make people pay for them, stating last October that: "If that gets instituted, I'm gone like Enron." On Thursday, King was quick to point out that he had not paid for Twitter Blue, even though Twitter said he had.
The following message pops up when you click on King's blue checkmark: "This account is verified because they are subscribed to Twitter Blue and verified their phone number."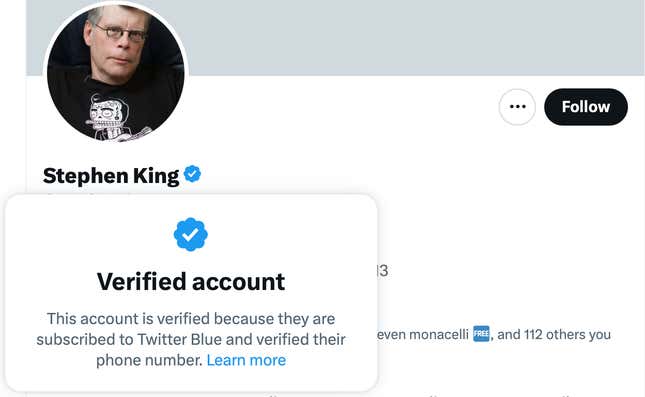 "My Twitter account says I've subscribed to Twitter Blue. I haven't. My Twitter account says I've given a phone number. I haven't," King tweeted. 
The mystery of who had kept King's checkmark in place was solved shortly afterwards when Musk responded to King.
"You're welcome namaste 🙏," the Twitter CEO said.
At around the same time, Musk responded to another account called "T(w)itter News Daily," or @TitterDaily, a reference to the billionaire's decision to paint over the "W" on Twitter's sign at its San Francisco headquarters. When T(w)itter News Daily posted that some celebrities were getting complimentary Twitter Blue subscriptions, Musk chimed in and said that he was "paying for a few personally."
It didn't take long for Twitter sleuths, and reporters covering the blue check drama, to figure out who the other Twitter Blue subscriptions Musk was paying for. The famed Star Trek actor Shatner sent Musk a cryptic tweet saying, "Thank you, I accept. 👍🏻," and maintained his blue checkmark. 
Shatner had been one of loudest critics of Musk's decision to remove blue checkmarks for all but paying customers and said in March he would go "blueless." Twitter's previous management gave out blue checkmarks for free to notable figures whose identity it had verified. Under Musk, though, anyone who wants a blue checkmark can get one by paying for it.
Basketball player LeBron James also made headlines for saying he wouldn't pay to keep his blue checkmark on March 31. Unlike King and Shatner, James didn't tweet about the fact he still had a blue checkmark. However, James' longtime media advisor told The Verge that the basketball player hadn't paid for his blue checkmark. 
The outlet reported that Twitter had sent James an email which stated the company would "extend a complimentary subscription to Twitter Blue for your account, @kingjames, on behalf of Elon Musk." Musk confirmed the news himself later in the day and explicitly stated he was only paying for the subscriptions of Shatner, LeBron, and King.
While maintaining the blue checkmarks of some Twitter Blue's biggest haters, thereby casting doubt on whether they were really paying, might have been a good move, Musk flat out saying that he's paying for their checkmarks is just lame. It's like forcing the cool kids in high school to sit at your table even though it's clear they don't want to be there. Furthermore, even though they're at your table, it doesn't mean you're suddenly cool, too.