It was just going to be another boring President's Day on the Internet, when along came a spastic, hilarious hacker with a taste for McDonald's, Gucci Mane, and caps lock. Is a criminal mastermind behind the @BurgerKing (and likely @Jeep) takeover? Nope—just a guy who plays shows in Rhode Island who left an unfortunate Internet paper trail.
The path to the hilariously defaced @BurgerKing account (and @Jeep, in the exact same style) bends and whirls all the way back to 2005, when a crew of teen hackers known as Defonic Team Screen Name Club infamously cracked Paris Hilton's T-Mobile Sidekick. Almost every noun in that sentence has aged poorly, and one juvenile member of the DTSNC was nabbed by cops and thrown into probation. Eight years later, it seems that a member of that crew—Tony "iThug" Cunha, an esteemed former hacker of MySpace pages—is back in action, and making the kind of juvenile screw-ups you'd expect from a 15-year-old.
G/O Media may get a commission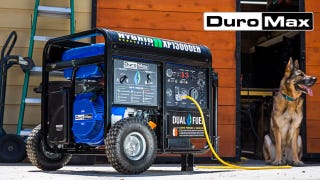 Black Friday Sale
DuroMax Generator Sale
When @BurgerKing was first cracked into yesterday—mostly likely by resetting a password via compromised email account—the tweets were a leafblower of shoutouts references, and repeated self-identification as someone named iThug. Many of tweets were aimed at personal friends—relatively unknown figures in the haute-obscure Internet DJ clique—who in turn replied to whoever had seized @BurgerKing.
That was yesterday—a virtual repeat of the prank hit @Jeep around 24 hours later. The exact same M.O. And it followed a heavy handed Twitter threat:
iThug followed up on one of those Twitter shoutouts by bragging to a girl (and pal from the Boston music scene) in question with his real-life Facebook account (deleted immediately after @Jeep was taken over, mind you). Using his real life name. He just had to show off (this post has also been deleted post-Jeep).
SMS transcripts obtained by Gizmodo (removed by request of sender) pointed us to the Facebook wall in question, which in turn pointed to Tony Cunha's incriminating Facebook account URL (facebook.com/ithug), further corroborated by a handful of Facebook event pages for parties Cunha has has DJed in the Boston and Providence, RI areas under the iThug name—a pastime of his after the MySpace hacking market dried up. Some of the event descriptions aren't so subtle:
oh sh*t... it's iThug.

If you know him, then your probably already excited. If not, well lemme just say dude has more house than Century21.

Either way on 10/7,.. turn off your computer & hide yr logins because Lovelife's own Executive Hacker is coming to MakeItNew this Thurs.

NO COVER
(Emphasis added)
A video of an iThug/Cunha DJ set was also uploaded by an account named DTSNC—the initials of his old (and perhaps current) hacker crew, which @BurgerKing made repeated references to yesterday.
Other traces of the Chuha's online (and offline) existence dot the web, like a profile on The Fancy, where he shows a particular interest in expensive shoes and backpacks. And calls himself iThug. This account was also locked after @Jeep was hacked. Suspicious!
But the brag seals it. The same impulse that's brought down many a hacker before now—King Sabu himself self-destructed because of how much he loved to pile up groupies and notoriety—is what pushed Tony Cunha into lol-winking a claim of responsibility for the hack on a girl's wall. Because really, after everyone stops caring about the week Burger King and Jeep's corporate Twitter accounts were hacked, the fleeting impression you left on a girl you haven't seen in a few years might be the only thing you have left.