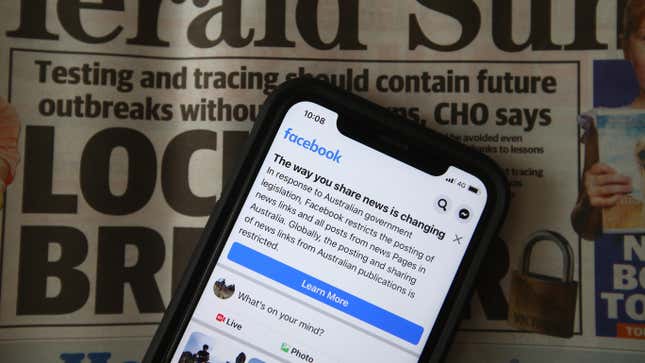 California lawmakers introduced new legislation this week aimed at pressuring tech companies like Google and Facebook into paying news publishers for content posted on their platforms. The measure comes amid a brewing battle between tech firms and lawmakers over similar legislation in Canada and on the heels of a messy fight over news last year between the Australian government and Facebook. Now, the fight over who pays for the news is coming to the Golden State.
Google's Antitrust Case Is the Best Thing That Ever Happened to AI
The proposed bill, dubbed the California Journalism Competition and Preservation Act, is being pushed forward by Oakland Democratic Assemblywoman Buffy Wick with support from the Californian News Publishers' Association. If passed, the bill would force tech companies to pay "journalism usage fees" when advertising is sold alongside local news articles appearing on a tech platform. Some 70% of the profits amassed from those fees would be required to be pumped back into journalism jobs. In essence, the fees and investment appear to function like a form of digital reparations for news outlets that were decimated during the transition from print to web-based distribution.
"California has lost more than 100 newspapers in the last decade," Wick said in an interview with The Mercury News. "Our constitutional founders understood the importance of a free press. And when you have an ecosystem where there's not a level playing field and newspapers are shutting down left and right, that concerns me from a democracy standpoint."
The bill points to a rattled news industry. In just the past year, The Mercury News notes, newspaper advertising revenues have fallen a whopping 66% while newsroom staff have dropped by around 44%. The California News Publishers Association estimates some 52% of California residents get their news from Facebook, 49% from Google.
"Big Tech has become the de facto gatekeeper of journalism and is using its dominance to set rules for how news content is displayed, prioritized, and monetized," California News Publishers Association chairperson Emily Charrier said. "Our members are the sources of that journalism, and they deserve to be paid fair market value for news they originate."
Journalism usage fees: Newspaper lifeline or 'link tax?'
The California proposal resembles a somewhat federal bill that sought to let local news outlets ban together to collectively negotiate with tech platforms. That effort achieved wide bipartisan spirit but was ultimately torpedoed last fall by Texas Senator Ted Cruz. Now, it's in limbo.
Similar legislation has already passed in Australia and is currently under consideration in Canada. Supporters of these efforts say they are necessary to prop up a local news industry in crisis, however, opponents, namely the major tech platforms, claim the bills mischaracterize the relationship between platforms and publishers and ultimately amount to a "link tax."
Meta and Google, the two companies most directly impacted by the bills, haven't publicly commented on the proposed California legislation yet, but they have opposed the federal bill that inspired it. Meta whipped out the big guns back in December and said it would have to consider "removing news form our platform altogether" if the federal bill saw the light of legality.
"The Journalism Competition and Preservation Act fails to recognize the key face: publishers and broadcasters put their content on our platform themselves because it benefits their bottom line—not the other way around," Meta said in a statement.
Google and Meta did not immediately respond to Gizmodo's request for comment.
NetChoice, an industry organization that counts Meta and Google as members, told Gizmodo the California proposal could incentivize large tech companies to abstain from sharing news on their platforms altogether.
"This is a 'link tax' that will actually result in people seeing less news from legacy newspapers," NetChoice Vice President & General Counsel Carl Szabo told Gizmodo. "If websites are charged every time we share a link, websites just won't let us share links to stories of interest."
Big Tech's ready to fight back against California's news bill
Both Google and Meta are currently pushing back hard against similar legislation making its way through the legislature in Canada. Last month, Google began temporarily limiting access to news results in tests affecting around 4% of randomly selected users in Canada. Google said those were just some of many tests it conducts regularly but supporters of the Canadian bill viewed the actions as a threat. Meta, on the other hand, was, let's just say less subtle. Not mincing words, the company threatened to "end the availability of news content on Facebook and Instagram," if the bill passed as currently written.
Those aren't hollow threats either. Meta played a similar game of hardball with Australian lawmakers over their own publisher payment law in. Meta called Australia's bluff, and briefly cut off news access for an estimated 17 million users. Essential services like hospitals and fire services found themselves caught in the crossfire. The jockeying worked. Meta eased off its news block after several days and agreed to a watered-down version of the bill that, among other carve-outs, let Facebook and Google agree to deals before being forced to enter arbitration with publishers.
Given all that precedent, the Californian bill looks like it's basically guaranteed to face aggressive lobbying pushback and dramatic threats from the tech industry. One state passing a so-called link tax might now seem like too big a deal, however, that small trickle could inspire a flood of similar actions from other states. That could be a real problem for Big Tech. Still, supporters of the California bill like Wicks said the root of the legislation is really about something far more basic: fairness.
"What we're sort of trying to do here really is level the playing field," Wicks said in an interview with the LA Times "We just want to make sure that work [of publishers] is honored in a way as opposed to being exploited by Facebook or Google or others who repurpose that content without paying for part of it."