ATLANTA — "The South" describes a vast, diverse group of people, ideologies and cultures linked, sometimes exclusively, by soupy, sweaty summers. Georgia's right wing government that recently attempted to pass an anti-LGBT "religious freedom" bill, its Paris Accord exit-supporting senators and Bible Belt location make its largest city, Atlanta, feel like a progressive island in a sea red with conservative ideals. One could rent a bike at the warehouse-converted food hall at Ponce City Market and pedal via tree-lined walkways to a high-tech park meant to turn into a pond from a deluge of storm runoff. This blue city wants to save its red state from the costly effects of a changing climate. There's a long and bumpy road ahead.

An obvious paradox plagues those hoping to fight the effects of climate change and build more sustainable cities here in the United States. Progressive Northeastern and Western states seem to be those at least risk for suffering the economic hardships of climate change like damages to the agricultural or energy industries, powerful storms, and human mortality according to one high-profile study published in Science. That same study expects the worst effects in the Southern United States, places with lawmakers who deny humans' influence on the changing climate and are uninterested in supporting the fight. That means a passionate few need to take on the burden.
Scientists and other climate experts are banding together in Atlanta with allies throughout the state to do what they can, regardless of the opposition. The process of reducing emissions, adapting to changes, and earning the support of the uninvolved in the Trump era requires a deliberate, careful strategy. Together, many of these advocates are drafting a plan for whenever or not the rest of the state is ready to join them.
"If at some point the political stars align to support climate action, we should have a phenomenal team in place to support it," Daniel Rochberg chief strategy officer for Climate@Emory at Emory University told Gizmodo. "But there is plenty to do independent of some future alignment of the stars."
Rochberg heads the Georgia Climate Project, a consortium of representatives from the state's largest universities hoping to make Georgia a leader combatting climate change and its effects. Today, the project consists of researchers at the state's most well-known institutions, Emory, Georgia Tech and the University of Georgia. They've only just devised a roadmap for the top climate issues faced by the state that they've submitted for peer review to a journal for publication this fall.
Georgia, specifically Atlanta, happens to serve as the perfect laboratory to study climate change, and specifically one phenomenon it will exacerbate: the urban heat island effect. The lack of trees and shade, darker surfaces, waste heat from air conditioning and trapped heat from tall buildings all keep the city eight degrees warmer than the surrounding suburbs, and prevent it from cooling off at night. One recent heat wave was especially bad—Georgia faced record-high temperatures in a 2012 event. Climate change could potentially lead to more frequent heat waves, exacerbating these effects.
Georgia Tech graduate student Evan Mallen walked me around the campus, where white temperature sensors hide on trees and poles like fly zappers, comparing a cool, shady amphitheater to the busy paved Tech Square across the highway from the school's main campus.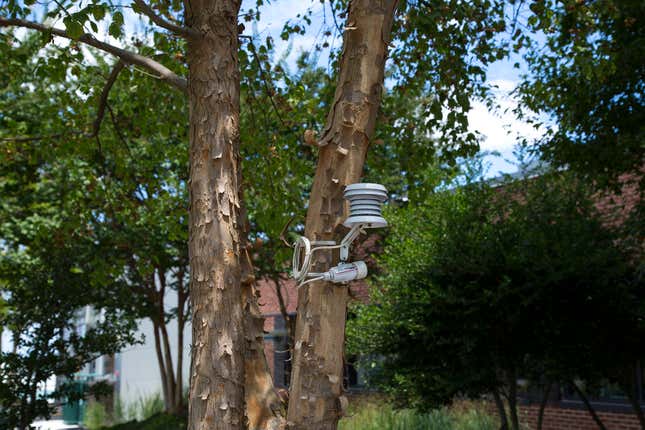 Others I spoke to study broader-scale climate effects, the health effects of extreme weather events, or work on broader policy questions. But scientific study is only part of their solution. Many politicians will just deny the science outright, after all—so messaging has been an important component of the effort.

Some Georgia legislators seem to be actively sabotaging climate change efforts, working to dismantle progress at the state level. Both of the state's senators, Johnny Isakson and David Perdue, strongly favored the president's decision to pull out of the Paris Accord, reported a Georgia NBC News affiliate. The state's political ranks are loaded with climate change deniers, the governor once said he didn't know whether climate change was man-made or not, and its attorney general sued to block the Obama-Era Clean Power Plan. While Georgia once offered tax credit to those with electric cars, in 2015 lawmakers replaced the benefit with a $200 registration fee.
It's hard work, growing an active network of climate scientists that non-scientists will actually listen to. Rochberg explained that the Georgia Climate Project will be trying to make climate change as apolitical a discussion as possible through its messaging.

"I think it's challenging right now. In large parts of the state, if you start by talking about climate change, the conversation ends quickly. But if you start talking about weather variability," like warmer winters or heat waves, "or if on the coast you talk about sea level rise it doesn't stop immediately. It's about how the conversation is framed."

Rochberg felt a big part of the project was emphasizing the stories of Georgia state residents who could be adversely impacted by the changing climate. Just this year, an especially warm winter caused the state to lose much of its famed peach crop. He and others hope to curate stories such as these and put together videos to motivate sympathetic neighbors to support climate action. North Carolina has a similar series of three-minute videos depicting residents who've noticed changes in the seasons throwing off honeybees and warming streams impacting trout fishing. The reach of these videos is questionable—they don't seem to have the social media footprint or view count to demonstrate a significant level of impact.

But sometimes, you have to play along with the political climate of denial in order to continue your work. Researchers have found themselves changing the language of their proposals, not only when dealing with Georgia state legislators, but even when applying for grants from the federal government.
These sorts of tweaks to language might feel frustrating but have proven necessary in the Trump era. You may have heard about federal scientists asked to discuss "weather extremes" instead of "climate change" by administrators. Agencies such as the National Institute of Environmental Health Sciences have even deleted mentions of climate change on their sites. These policies have acted as censorship, and require researchers to work within the confines of what terms and ideas the agencies will accept. As far as doing research goes, those applying for national grants now have to be extra careful with their wording.
Stefanie Sarnat, associate professor at Emory's Rollins School of Public Health studies the effects of pollution or extreme heat on emergency room visits in Atlanta. Her team examines weather and hospital data, and has found associations between high daily maximum temperatures and emergency room visits for the elderly, renal disease, fluid imbalance and asthma.
Even if climate change made these effects worse, Sarnat has the current administration in mind. "For future proposals, we may want to focus less on the idea of climate change and more on the ideas of today's exposures," she said.
After all, the research is still getting done, and deals with issues that exist already, climate change or no. "The work on heat might be motivated by the future but we also see these effects today," she said. "Maybe we deemphasize the climate change angle. The work is the same but the motivation might be slightly changed."
Some, like Wayne Clough, president emeritus of Georgia Tech, told Gizmodo he hoped that Atlanta-based corporations could convince politicians to take action, especially those who've made sustainability part of their mission or corporate responsibility statements like Coca-Cola or Delta Airlines. Pressure from Georgia-based businesses has influenced policy in the past, and CNN reports this pressure helped convince Georgia Governor Nathan Deal to veto the anti-LGBT "religious freedom" bill.
Meanwhile, the city of Atlanta has attempted to separate itself from the state as a whole. Mayor Kasim Reed joined other cities that would uphold the terms of the Paris Agreement. The City has been working on several sustainability programs, like bike shares, a green walkway circling the called the BeltLine, and other projects. The city passed an ordinance in 2014 requiring all commercial scale city buildings to report the amount of energy they consume, a move they hope will inform the public and marketplace and encourage companies to decrease the overall consumption.
Many of those interviewed mentioned this year's resolution to "adopt a vision of 100 percent clean energy powering the city of Atlanta's needs by 2035." The resolution's prime function is to create a plan for how to achieve 100 percent clean energy by 2035. Even this felt like an important step to some, though. "I think all those symbolic gestures are really important," Marilyn Brown, Professor in the School of Public Policy who shared the 2007 Nobel Peace Prize for her work with the IPCC told Gizmodo. "But following through and systematically chugging along and making sure you can live up to them is what they need to focus on now."
When I went to city hall to discuss some of these things, they mentioned numerous other projects, like piloting a Feet on the Street program that encourages better recycling habits, the Historic Forth Ward Park that turned a flood-susceptible area into a large public space. But working on legislation, especially when the state is involved, can be a challenge. The state tried to block that city energy benchmarking ordinance, and on a compromise wouldn't let the Mayor's Office of Sustainability enforce it for the first year after it passed. Many of the building blocks have been laid out but only just now has the stacking begun, and "right now we're still increasing our emissions," Jairo Garcia, Director Climate Policies and Renewables in the Mayor's Office of Sustainability told Gizmodo. "It's everywhere. You always have people who are trying to oppose change. You have to fight those people."
But when I spoke to Kim Cobb, a climate scientist at Georgia Tech, she felt things were no longer a fight against the outright deniers, but rather a matter of getting apathetic folks involved. She herself changed her own lifestyle in order to bike to work every day, and lectures about climate change to local residents. To her, managing climate change isn't about deniers and some lawmakers. "I have spent way too much time on a 10 percent of the American public," the climate deniers, "as a target audience. That is a colossal waste of my time and efforts. Will I go on Fox News and be put with a climate denier to discuss the science? Yes I will," she said. "But 70 percent of Americans are concerned about climate change and are seeking solutions. That's where we need to target our invitations." Those are the folks she targets in her lectures.
Right now, there's a lot of excitement and talk and some action, and no one is going to change the state's political climate overnight. The Georgia Climate Project hopes to continue drafting smaller universities and colleges throughout the state to take on roles as regional centers of expertise, amplifying its voice and reach and doing work at the local level. They'll continue prioritizing projects needed for the state. And they'll continue to hope; Rochberg said he was optimistic, but hopefully not naive about the roadblocks still present. "For that reason, first we're building step-by-step, starting with the stuff we think is the lowest hanging fruit. But we've been very careful about trying to make sure that the backbone of the whole initiative is an apolitical, nonpartisan effort."
He said: "I would love if, five years from now, people say 'where did Georgia come from.'"
This article was made with funding from Participant Media, the creator of "An Inconvenient Sequel: Truth to Power."