If your dreams of squatting in the Shire were dashed after the sheep moved in and filming for The Hobbit began, here's something to assuage your pain. An Etsy seller has built a series of Bag End children's playhouses priced at the cost of a few months' rent, and they're big enough to fit a Rider of Rohan or two. Without their mounts, of course.
Here are the stats from seller Hobbit Holes. Buy all four, set them up in your local park, recruit some friends, and pretend that all those court summonses are being hand-delivered by orcs:
This Hobbit Hole playhouse is 12' wide, has a maximum interior height of 6'3" and about 50 square feet of floor space. Comes painted as shown. Comes with a set of plexiglass and screen windows. Has a pressure treated floor system and all cedar framing. Floor is urethane-treated sanded plywood.
G/O Media may get a commission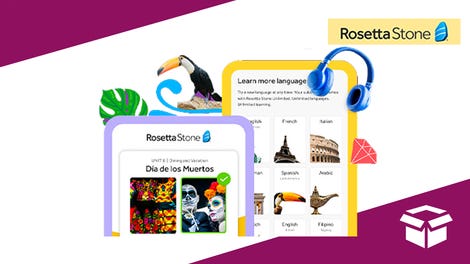 Extra 20% off
Rosetta Stone Lifetime Subscription - All Languages
I call dibs on the purple one, which will be converted into a Hobbit discotheque. Just be careful what you name your newfound parks-and-recreation-bedeviling commune. In related Tolkienesque building news, the venerable Hobbit pub in Southampton, England is being slapped with copyright infringement from the company that owns the rights to Tolkien's characters. Landlady Stella Mary Roberts claims that rebranding the music venue is financially untenable:
We were absolutely stunned. It was completely unexpected, we never intended to infringe anyone's copyright. Are we doing any harm? I don't think so. We're bringing people to the books and the stories who haven't heard of JRR Tolkien. We don't have the financial resources to fight it - I can't fight Hollywood.
You can read more about the "Save The Hobbit" effort at their Facebook page — the movement has attracted the support of folks like Sir Ian McKellen, Stephen Fry, and Neil Gaiman so far.