Marvel Studios head Kevin Feige may get the headlines, but few people have as much tactile influence on the Marvel Cinematic Universe as its design department—in particular, head of visual development Ryan Meinerding and visual design supervisor Andy Park. Their teams split up design duties on Marvel's schedule and are often hard at work on a movie long before there's even a director or script. And their work can also continue right up to the release of the movie.
"On the first Guardians of the Galaxy, Kevin Feige came to me and the other artists and said 'Okay, we're doing Guardians of the Galaxy. Spend two weeks and just design whatever you want,'" Park told io9. "But there was no script. A lot of times, when we start there's not a script yet. They're writing the script at the same time that we're designing."
It was a slightly different case with Park's most recent film, Thor: Ragnarok, which is now out on all home video formats. He and his team had only done a little work when director Taika Waititi, known for his small-budget comedies, was hired. "I was surprised," Park said. "I love his movies but he's not the expected choice for a Thor film. This is not the guy that's gonna be like 'I want to direct a Game of Thrones, Shakespearian movie' that we've come to know for the past [Thor] movies."
Nevertheless, Park was excited by the prospect of doing something new and unexpected. First up, he and Waititi got to work on Hela, the goddess of Death, who was to be the film's main villain. Park vaguely recalls doing some very early Hela designs before Waititi came on board, and in the director's commentary on the Ragnarok Blu-ray, Waititi gives Park and his team full credit for the design of the character. Still, Park says it was more collaborative than that.
G/O Media may get a commission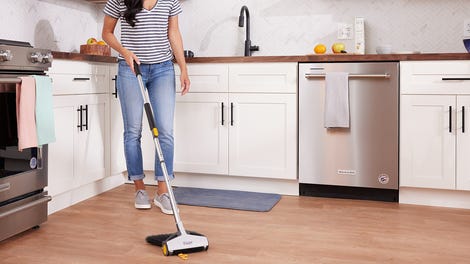 BOGO 50% Off
Flippr - BOGO 50% Off
"A lot of times [Waititi] would look through the source material and he would show me, or send me an email or something, and say 'Oh, look at this version of Hela. That's pretty cool.' So we'd do our take on that. And he's also an artist himself, so a lot of the time, he would do quick doodles on a piece of paper."
The other big thing that Waititi impressed on Park and Marvel was a desire to do more than just pay homage to the bright, influential artwork of Marvel Comics legend Jack Kirby—he wanted to "drown" in it. It was so all-encompassing that, at times, Park said he felt way out of his comfort zone.
"I've been at Marvel for almost eight years, and [Waititi] would say 'I know you know the Marvel style, but I want you to do stuff that's not Marvel. Do something different.' And I appreciated it," Park said. "He definitely pushed us places where I was uncomfortable, where I'd go 'Ah, that's a little too wacky.' Sometimes we did go to that place where it was too wacky but I appreciate that he's the kind of director that would push us that far. Most directors won't go that far."
One such example had to do with Thor's gladiator outfit. Waititi's vision of what Thor would be wearing when he fought the Hulk was unlike anything Park had ever designed for Marvel.
"He didn't want it to look like Thor, essentially," Park explains. "He didn't want it to look like a cohesive, cool-looking gladiator that you'd expect to see. He wanted the armor to not look like it goes together: Jack Kirby helmets with weird [accessories] on it, weird shoulder pads, different weapons, and definitely all the colors of the rainbow."
Park was worried because he was thinking big picture. How will this look on a poster? Will people want to buy this toy? "[But] he pushed us beyond that," Park said. "And we did go there but then, at the end of the day, what you see it a little bit more toned down. It's pretty much the suit that I designed and he just added pieces."
A typical movie design department might work on one film than jump onto the next. At Marvel Studios, though, there are days when Park may touch five different movies on the same day; even though his team does the bulk of their work six to eight months right after a film is greenlit, he has to work at various other stages, too. He works with the costume designers. He goes to fittings with actors. And on Thor: Ragnarok, he even continued working on the film's design after it was done shooting.
"We knew Hela was going to be an ongoing process. So much of her was VFX, her look was evolving even in post," Park said. "So I would do more designs on top of VFX shots to try to really solidify and figure out what is her helmet going to look like? What does her headpiece look like? What would her make-up look like? I would do paintings over her eyes. 'Are they white eyes? How much of the pupil do you see?'"
Finally, even after a film is done, the work continues, with the design department working on the Art of book and posters. But even then, they dive right into the next thing. For Park, that's Captain Marvel, out in 2019—followed by many more movies that he can't tell us about. After all, Marvel did just announce release dates for six untitled films coming in 2021 and 2022. At least Park, Meinerding, and their teams of Marvel designers know they have plenty of job security.