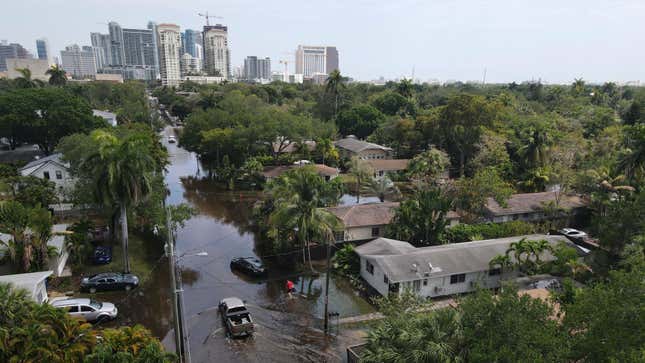 Historic rainfall over Fort Lauderdale sparked intense flooding that shut down schools and businesses this week. And the threat of flooding isn't over just yet, an already waterlogged South Florida may see more rain this evening.
"A few showers and storms are possible again along the east coast," the National Weather Service Miami station tweeted this morning. The incoming rain could create more flooding in the east coast metro area, a hazardous weather outlook from the National Weather Service warned.
The damaging rainfall was caused by a "stationary supercell thunderstorm centered near Fort Lauderdale" that produced several periods where 3 inches of rain fell over the city per hour, the Weather Prediction Center tweeted. This caused the city to receive about 25 inches of rain during a 24-hour period from Wednesday to Thursday, CNN reported. Nearby areas, including Dania Beach and Hollywood, saw over a foot of rain during that same period. Ana Torres-Vazquez, a meteorologist for the National Weather Service station in Miami, called the heavy rain this week a "1-in-1,000-year" event. "This amount of rain in a 24-hour period is incredibly rare for South Florida," she told CNN.
City officials and the Red Cross opened shelters in Fort Lauderdale yesterday to support area residents who are currently in need of lodging, food, and personal care items. About 600 people were taken to shelters this week, CNBC reported. Meanwhile, city crews are working to alleviate as much flooding as possible. "Crews are out in neighborhoods clearing storm drains to aid water receding from neighborhoods," Fort Lauderdale Mayor Dean Trantalis said, according to local station WSVN 7News. "Vacuum trucks are being deployed strategically throughout the city."
You can click through to see photos of the flooding following this week's downpour.
Want more climate and environment stories? Check out Earther's guides to decarbonizing your home, divesting from fossil fuels, packing a disaster go bag, and overcoming climate dread. And don't miss our coverage of the latest IPCC climate report, the future of carbon dioxide removal, and the un-greenwashed facts on bioplastics and plastic recycling.