New releases have been teased by trailers for a century now, but hot damn have they evolved into an art form all their own, and there are editors who specialize in making them. We got the inside scoop from one of the masters.
Mark Woollen is a modern maestro of this very specific, super potent kind of movie magic, and has cut clips for everything from Beauty and the Beast to 12 Years a Slave. At yesterday's Wired x Design conference at Skywalker Sound, he offered a bit of insight into how he approaches these concise mini-features.
There's no one-to-one formula for transforming the narrative of a full-length film into an edit that, in the span of a mere couple of minutes, will capture the spirit of the story and the attention of the viewer. Sometimes Woollen has hours and hours of dailies, or raw footage, to work with; other times, the director hasn't even yet made key choices regarding character development or visuals.
Woollen and Roper on stage at Skywalker Sound, under an entirely unimpressed character from A Serious Man.
G/O Media may get a commission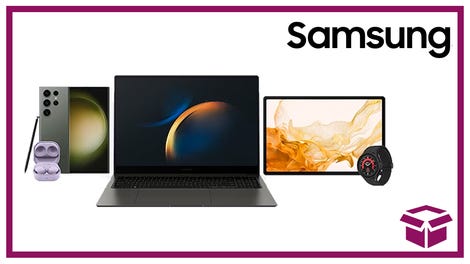 24 hour deals
Discover Samsung - Daily Deal
"I think you have to be an optimist," he told Wired senior editor Caitlin Roper. "To be able to see potential in material." I love this; because no matter the subject matter of the movie itself—it could be the darkest, most dramatic heartbreaker—trailers are inherently full of promise, hinting at the kind of transcendent, oh-my-gosh-WOWWOWOOWOW cinematic experience that we all want to have at the theater. The best trailers manage to not only embody the film, but elevate it (heck, even the worst provide a unique kind of wishful thinking of: Surely the final couldn't be that bad).
Have a look at Woollen's site and scroll across the bottom; it's a veritable freaking gold mine of trailer brilliance. Here are four of his greatest hits; they're short, but allow yourself some time, as you're going to want to watch them over, and over, and over...
---
A Serious Man (2009)
"First: I was trying to make the Coen's laugh," he told Roper.
The sound of that head slamming against a wall became a kind of bass line. It was one of the sonic elements that could be looped and give the clip its rhythm—along with a distinctive cough and sniff—that ultimately begins to build into the "cacophony of of the characters' world."
---
The Social Network (2010)
"How do you make a film about Facebook?" Woollen didn't want to jump in with the story itself. Instead, the goal was to first establish a connection with viewers about the way they communicate online, a kind of familiarity that would draw them in and make them care about the narrative behind it. Woollen and his team took a day in the office where everyone brought in posts from their own networks, which became the basis for the opening montage. And then, of course, there's that angelic rendition of Radiohead's Creep by Scala and Kolacny Brothers, a Belgian girls' choir. He had the song kicking around in his collection for years, waiting for the perfect project. This was it. Director David Fincher was, understandably, into it.
---
Little Children (2006)
Director Todd Field had a few challenging directives for this trailer: He wanted no story; he wanted no music. Woollen had to get to the heart of the movie through sound design. "It was about creating a feeling," he said. Like A Serious Man, things start out slow, until all the elements start to click and the tension ratchets up through these increasingly intimate snippets of film and audio. The effect is unsettling, and yet: It leaves viewers with an insatiable desire to see more.
---
Birdman (2014)
I first caught this teaser a few weeks ago and: Whoa. I could not stop pushing play. Not only that, but I just kept thinking about it, and coming back later to push play again. Only yesterday did I learn it was Woollen's work, which now, of course, makes perfect sense. "The film is put together as it's almost one take, one shot," he said. This informed the structure of his trailer, which follows Keaton through this kind of meta-trajectory of a washed-up star of a superhero franchise searching for cultural relevance again.