Is It Real? The Trend toward the Authentic in Product Design

By Luke Williams
This gum, Mr. Wonka went on, is my latest, my greatest, my most fascinating invention! It s a chewing gum meal!
In Charlie and the Chocolate Factory, Roald Dahl toyed with the concept of simulating the authentic when a three-course meal was replaced by a single piece of chewing gum. While Wonka s magic gum has (so far) been confined to fiction, we are exposed every day to products simulating an authentic experience. But has the time for simulated materials passed?
After decades of being surrounded by synthetic, mass produced, generic products, consumers are yearning for the authentic: For the tactile sensation of genuine materials, for the real thing. For goods that make an emotional connection with the artisan who crafted them. This yearning is evident in both marketing and product design, where perceptions of quality are strongly associated with the presence of authentic materials. (See last week s frog Design Mind for our discussion on how materials shape consumer perceptions.)

G/O Media may get a commission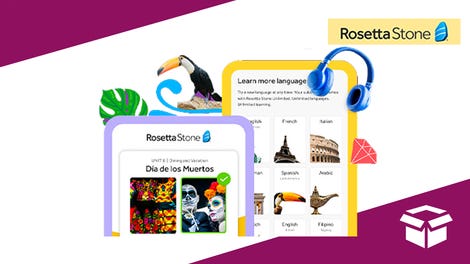 Extra 20% off
Rosetta Stone Lifetime Subscription - All Languages
Until recently, designers and manufacturers have been constrained in the materials they could draw from to respond to the consumer demand for authenticity. Plastic, the magic material of the 1950s, has dominated product design with its synthetic versatility. With its ability to mimic almost any material, the choice for designers has often not been which material, but which plastic?
As a result, many products compensate by using plastic to simulate genuine materials. For instance, the trend of silver colored consumer electronics products has been fueled by manufacturers desire to raise perceived value of plastic devices by mimicking real metal. Using a patented 3D embossing technology, laminate giant Formica creates products which combine plastic with the simulated characteristics of wood, stone and even metal. Formica Stone hard surfacing material references classic Italian stone patterns and promises natural beauty with a truly luxurious aesthetic." In a time when it is increasingly difficult to distinguish the real from the fake, consumers want to be certain of what is honest and genuine.
The rules are changing with the advent of new manufacturing processes. These allow a wide variety of authentic materials to be applied to plastic injection molded components without the complex secondary processing that currently precludes their inexpensive use. Designers and consumers now have access to a richer palette of materials such as fabric, leather, wood and metal to find creative expression. And it is not just the blinged-out, jewel-encrusted Paris Hilton phone that s indicative of what s to come. With the special edition IntelliMouse, Microsoft took advantage of a patented over-molding process to create a more tactile mouse experience, swapping the feel of plastic for the feel of genuine leather. Or, the Tulip E-Go laptop which uses fabric, leather, wood and metal covers that are easily interchangeable by the user to fit mood or outfit.
These examples could be described as mass-craft, a trend that is spreading its influence across design domains and is coming soon to a gadget near you. Creating a craft-based aesthetic in products has normally been the domain of luxury goods. Hand-made is now equated to premium as well as limited edition and unique. Thus, higher selling prices have been justified. The Rolls-Royce car is largely hand-assembled; haute couture clothing is hand-stitched; and super premium wine is handcrafted. (3)
Mass-craft products on the other hand, have a craft-based component to give consumers emotional, artisan connections to gadgets that are mass-produced to deliver the predictability and accessibility consumers have come to expect from mass-market providers.
One of the latest examples is the Marcel Wanders-designed stereo equipment for Holland Electro, a Dutch home entertainment brand. Components are crafted like fine furniture, enclosed in authentic wood cases with decorative leg treatments. The smooth, egg shaped speakers have artistically carved screens with an ornate scroll pattern.
After decades of being surrounded by simulated authenticity, we ve arrived at a design turning point. Designers and manufacturers of mass-produced consumer electronics now have access to new manufacturing processes and a richer palette of materials to create an emotionally compelling, authentic look and feel. Simulation is out. Authentic is in. Now there's something to chew on.
Luke Williams is a Design Manager for frog design s New York Studio.
3. Michael J. Silverstein and Neil Fiske, Trading Up , Portfolio 2003.