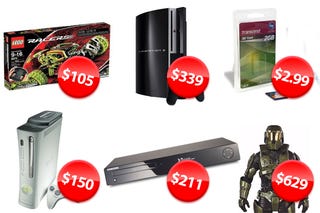 Just look at those deals, gleaming at your with the sheen of a glossy Sunday newspaper. We've got an Xbox 360 for $150-crazy, even if it's a refurbished model. We've got a Samsung Blu-ray player for $211-decent, even if Blu-ray never gets as big as DVD. Oh, and that is a Master Chief costume that you see for under $700.
And if you liked those deals, there's a lot more where they came from...
Gaming
• Refurbished Xbox 360 20GB Hard Drive with Wirless Controller, Component HD AV Cable and Headset for $149.99 (originally $259.99).
• Playstation 3 80GB for $339 (originally $399.99 - valid through 10/29 or up to 3,000 uses. Use coupon code "PWXNZVNDRWWX1P" ).
• Nintendo DS Lites for $119.99 (originally $129.99).
Video
• Samsung 1080p Blu-Ray Player for $211.15 (originally $299.99).
Cell phones
• Unlocked Sony Ericsson Z555a Diamond cell phone for $129.99 (originally $249.99).
Cards and card readers
• Transcend 2GB SD card for $2.99 (originally $24.99).
• 1GB Micro SD card for -$1.01 (originally $3.99 - use this rebate form).
Miscellaneous chargers, toys and such
• Authentic Master Chief costume for $629 (originally $849).
• DRM-free MP3 music for $0.74 (originally $0.99).
• Fast International AA/AAA Battery Charger for Home and Travel with World Plug Kit and 4 Premium Batteries for $18.99 (originally $59.99).
• Lego Racers Outdoor Challenge for $104.45 (originally $179.99).