There are loads of Apple haters out there (even some among our commenters), and they deserve great tech gifts just as much as that guy who thinks all PMPs are called iPods. Here are some very un-Apple gift ideas.
BTW, if you hate the gallery format as much as the Grinch hated Christmas, click here.
Deadly Mississippi Tornado Kills More Than 2 Dozen | Extreme Earth
Zune HD + ZunePass and HD Dock: If your Apple hater is in the market for a PMP, there's no better option than the Zune HD—in terms of media capabilities, it kicks the iPod Touch's standard-def ass with HD radio, 720p video output, a killer OLED screen and a gorgeous, media-centric UI. It'll play any file your iPod can (that aren't iTunes protected), and can also handle video up to 720p. (iPods can't go there yet.) The ZunePass, which gives unlimited music downloads for $15 a month, is a killer supplement, and the HD dock, which outputs high-def video to TVs, is a must-have add-on. Put them together and you will bestow your Apple hater with bragging rights over those poor, deprived iPod owners. $290, $70 (dock), $15/month (ZunePass). [Link; Zune HD, HD Dock, ZunePass]
G/O Media may get a commission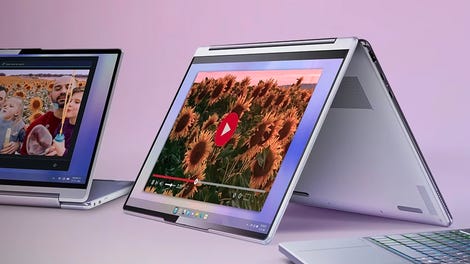 up to 70% off
Lenovo Spring Clearance
HP TouchSmart 600: The new iMac is nice and all, but try poking it in the face and see what happens. Here, I'll spoil it for you: Nothing. The HP TouchSmart 600 isn't perfect, but its multitouch media capabilities offer a wow factor no Mac desktop can boast. And that's what it is now—there's no telling what developers will do with Windows 7's integrated touch. Plus, it's comparatively cheaper, spec for spec, than the iMac, and you can get a Blu-ray drive built-in, with no philosophical kerfuffle from Apple about the future of digital media. You want to watch Planet Earth in HD on Blu-ray right now, dammit, and you shouldn't have to wait for the HD stream to trickle in. $1,110. [Link; Amazon]
Whatever the Hot PC Game Is Right Now: I don't play videogames that don't feature Mario prominently, but even I know that anyone with a passing interest in computer gaming has to have a Windows PC. Apple haters will love a copy of Dragon Age: Origins or Left 4 Dead 2 on PC, not just because they're great games (or so I hear—thanks Will!) but also because you can't play 'em on the Mac OS. $40 each. [Dragon Age: Origins, Left 4 Dead 2]
Motorola Droid: Sure, Matt may have called the Droid "the second best smartphone you can buy," the best being the iPhone 3GS, but Apple haters will find plenty to love about the Droid—and plenty to loathe about the iPhone. I won't rehash our review (or Verizon's intimidating "Droid Does" ad campaign), but anybody who's into tech enough to hate Apple will really be into the distinctly un-Apple Droid. Multitasking, open-source, a ballsy industrial design, and a hardware keyboard: Droid's got it, iPhone doesn't. $200. [Link; Verizon]
Logitech Performance MX Mouse: I don't care if Apple's Magic Mouse is the best Apple mouse ever—in my opinion, one shared among Apple lovers and haters alike, Apple's mouse pedigree is nothing to be proud of. Style over ergonomics, awkward touch scrolling, high price—the Magic Mouse is an easy gadget to hate. The Logitech Performance MX isn't. Logitech crammed in an amazing new laser technology that even works on glass, it fits comfortably in the hand and has real buttons, dammit, like in the good old days. If you're not desperate for something to match your Mac, and certainly your Apple hater is not, the Logitech Performance MX is the right choice. $80. [Link; Amazon]
Acer Aspire One: Apple doesn't think netbooks match up with their premium brand reputation, but the public doesn't care—netbooks are huge sellers, and the Acer Aspire One AOD250 is one of the most interesting yet. It dual-boots not one but two non-Apple OSes (Android and XP), offers a whopping nine hours of battery life, and its diminutive 10.1-inch size is just right for travel—perfect for somebody who wants to point out the gaping 8-to-12-inch hole in Apple's lineup. $330. [Link; Amazon]
Note: In an earlier version of this post, I accidentally described a not-yet-released notebook from Asus, not this sweet little netbook. Sorry for the confusion.
Tickets to a Girl Talk Show: Aside from putting on a damn fun show, mash-up artist Girl Talk (real name Gregg Gillis) is not only one of the most prominent electronic musicians working today but the only exclusive Windows user in that genre who comes to mind. Plus, a major part of his shows, since there's no, you know, band, or anything, is inviting the crowd up on stage in a sweaty, hipstery, dancey mass while he mixes music live on his PC—with Saran Wrap taped all over it, for protection against flying perspiration. Girl Talk proves that Apple doesn't have a monopoly on music production, and your Apple hater will have a great time to boot. $15-25. [Link; Girl Talk, Image from Pedestrian.tv]
DON'T BUY HP Envy 13: But why not buy this well-reviewed, recently released, Windows-7-running laptop? I'll tell you why. The HP Envy 13 is a photocopy of a photocopy of the 13-inch MacBook Pro—same aluminum case, same black bezel around the screen, same chiclet keyboard with reversed Fn keys, same multitouch clicking trackpad. It's definitely not a bad laptop, and does have a few advantages over the MacBook Pro (like a better screen and crazy battery life) but it's also got weaknesses: No optical drive, for one, but also an unforgivably high price. The Envy 13 starts at $1700, $500 more than the MacBook Pro. Although if it were one day given the Hackintosh treatment, it would be the creepiest Mac clone ever, it's currently quite un-Hackintoshable (if that's a term). [Link; HP]
Don't forget to recommend your own favorite Apple-hating gifts in comments—include pics and pricing if possible.
All Giz Wants is our annual round-up of favorite gift ideas, including amazing attainable objects and a few far-out fantasies. We'll be popping guides catered to different interests several times per day for the next week, so keep checking back.