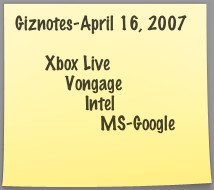 Xbox Live is throwing a contest to find the next great TV show. All you have to do to enter is make a 5- to 15-minute pilot, and pray that your clip is selected to be one of the six finalists.
Vonage this, Vonage that. This weeks big news is that the company is admitting that they have absolutely no idea how to work around the infringed Verizon patents.
Oh how we love irony, Microsoft is bringing in the anti-trust investigators to check out Google and its recent pickup of Web advertiser DoubleClick. I guess MS has enough experience in the field.
Wondering what's what Intel has brewing after Santa Rosa?