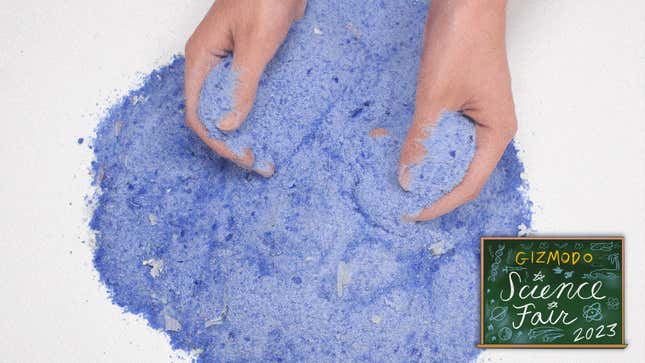 Glass Half Full and Tulane University researchers are winners of the 2023 Gizmodo Science Fair for recycling glass bottles and using them to restore shoreline in Louisiana.

What Is Carbon Capture? With Gizmodo's Molly Taft | Techmodo
The Question
Can a glass recycling project divert New Orleans' glass bottles from landfills and turn them into sand for emergency response and shoreline restoration?
The Results
When their project began in early 2020, the Glass Half Full team had just a small machine that could crush one glass bottle at a time. Today, they can process thousands of bottles a day, and the team's research has shown how sand made from their pulverized glass bottles can be safely added to Louisiana's shoreline. The Gulf state struggles with erosion that is worsened by hurricanes and sea level rise; the U.S. Geological Survey estimates the state lost about 2,000 square miles of land between 1932 and 2016. That's an area larger than the state of Rhode Island.
New Orleans does not have curbside pick up for several recyclable items, including glass bottles, which means they largely end up with regular trash. Glass Half Full saw that as an unacceptable waste of resources. "There's so much glass going into the landfills, and we could put it to good use," cofounder Franziska Trautmann said.
Besides restoring eroded shoreline, the pulverized glass can be used to create sandbags for disaster response. The team has also partnered with local glass blowers to turn the crushed glass into beads for jewelry.

Last April, the team completed its first demonstration of how sand made from glass bottles can be deployed into the environment. Trautmann and a group of volunteers added 12,000 pounds of recycled glass sand to the coast, in a collaboration with the local Pointe-au-Chien tribe in the Lafourche and Terrebonne parishes. In one of their demonstrations last spring, they installed a gravel drain and planted native plants in their sand. They conducted a similar demonstration last June in the Big Branch Marsh National Wildlife Refuge north of New Orleans.
Revisiting the sites in October, Trautmann saw that the burlap sacks had broken down, sediments had built up in the area, and the plants placed in the recycled sand were still alive. "Both projects were doing amazing," Trautmann said.
Why They Did It
"Ultimately, we realized, hey, no one else is gonna do it. The city's not going to do it, a state's not going to do it, some large company's not going to do it... so why not? Why not give it a try? Why not try it ourselves?" said Max Steitz, cofounder of Glass Half Full. "[It's also] being able to create good, green jobs in our local economy."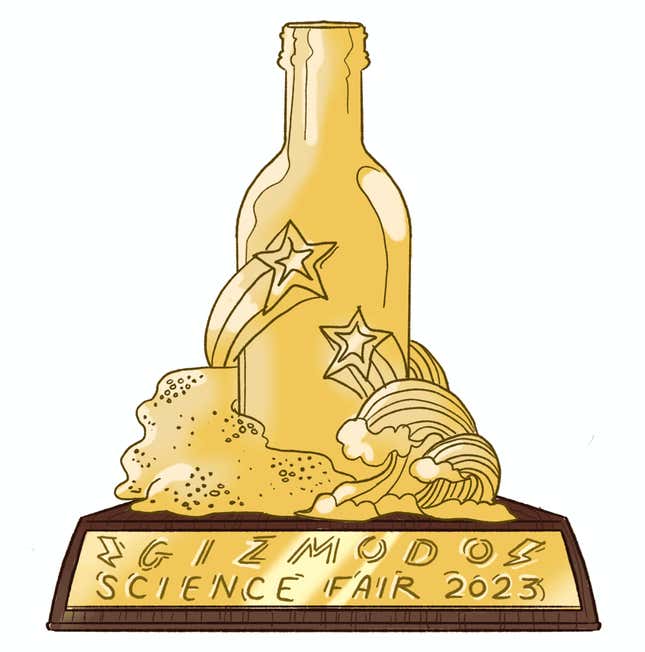 "There's so much glass going into the landfills, and we could put it to good use. I'm excited to figure out how we can do that," Trautmann said. "We weren't expecting so many people to care, honestly. Every time we got another news piece or TikTok went viral, [it] just sort of reinvigorated the passion and the drive for us."

"I was just really excited to learn that there were people—especially young people—who were stepping up to solve a big problem here in New Orleans. I was very frustrated that I couldn't recycle my glass. I just had glass accumulating in the back room," Elizabeth MacDougal, a Tulane University student and researcher, said. "I was very excited when the opportunity came up, to work with them and to incorporate my interests as a researcher into the work that they were doing as well."
"It's so exciting, and it's also really humbling and rewarding to be able to work with a [former] student who is like, going for it," Julie Alberts, an associate professor of chemical engineering at Tulane University, said. "I can still think back to when I was her age, and I was always very frustrated by environmental conservation efforts, because it was always 'man, it just doesn't seem like it's making a difference.' I think that this has the potential to be really impactful in our area."
Why Glass Half Full Is a Winner
Glass Half Full has found a way to address two local problems at once: the lack of recycling for glass and land loss due to erosion. Each month, the team manages to collect over 150,000 pounds of glass that would have gone to landfills. They're also educating the public through their TikTok account, which has over 258,000 followers, sparking broader interest in recycling projects and extreme weather response.
What's Next
Glass Half Full and researchers with Tulane University are working to see if the pulverized glass sand is suitable for environments beyond the Gulf Coast. They want to make sure that the glass doesn't harm aquatic animals before deploying it for shoreline restoration in other states. "So we're already looking at Alabama, Florida, potentially Hawaii," Trautmann said. "The goal of phase two is seeing, okay, where else might this be helpful? What research can we do to help locals in that area feel empowered to use this?"
To learn how marine life reacts to the sand, "we're going to design metal trays that we can fill with sediment," said Tulane University ecology professor Henry L. Bart. "We're going to set these trays out in places that are tidally influenced, so when the water will flood the trays, things can colonize them."
The National Science Foundation has awarded the project over $5 million to  continue testing recycled glass sand for natural environments.
The Team
The Glass Half Full core team: Corey C., processing and logistics; Jelagat Cheruiyot, advisor; Javier, processing and logistics; Chuck Jones, processing and logistics; Riley Singer, director of processing and logistics; Max Steitz, cofounder, COO, and CFO; cofounder and CEO Franziska Trautmann; Rodney Weber, processing and logistics; Alex W, operations manager; and a network of over a thousand volunteers.
In partnership with the U.S Fish & Wildlife Service, Coalition to Restore Coastal Louisiana, and the Pointe-au-Chien Tribe.
Also in collaboration with the ReCoast team: Julie Albert, principal investigator and Tulane University professor; Mead Allison, Tulane University professor; Tiong Aw, Tulane University professor; principal investigator Sunshine Van Bael; Henry Bart, Tulane University professor and ecology researcher; Keith Clay, Tulane University professor; Emily Farrer, Tulane University professor; Kat Fogg, research project manager; David Hicks, University of Texas Rio Grande Valley professor; Navid Jafari, Louisiana State University professor; Vijay John, Tulane University professor; Ehab Meselhe, Tulane University professor and principal investigator; Tulane University Senior Professor Katie Russell; Julie Vanegas, University of Texas Rio Grande Valley professor; Kejun Wen, researcher; and many participating students at Tulane University.
See the full list of Gizmodo Science Fair winners
Read more: Restoring Louisiana's Shoreline, One Glass Bottle at a Time