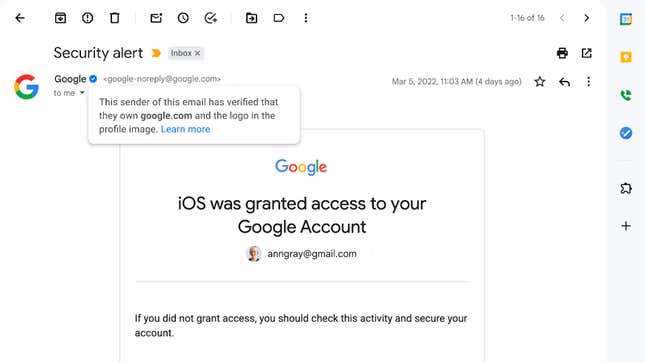 Companies like Meta have been on a blue check mark kick lately, despite how the verified icons have become a mark of shame rather than a status symbol on Twitter, the site which originally popularized the idea. Now Google is also getting in on the blue check hype with its own verified branded email system, though it's unclear if this will help fight the amount of spam sent to users' inboxes.
Google released a new Workspace blog Wednesday showing off its expanded Brand Indicators for Message Identification system for Gmail. The company said those with these verified check marks have to "use strong authentication and verify their brand logo" to display that blue check, meaning they are who they say they are.
The BIMI service has been around since 2020 though it's previously been used to confirm brand logos on an email's avatar slot. Now the blue check adds another layer of confirmation a brand is who they say they are as they spam your inbox with updates and promotions. The update to brand verification should be rolling out starting Wednesday and unlike Twitter, Google isn't asking any brands to pay a thousand bucks for the privilege.
Verification with BIMI is voluntary, and each account has to use Domain-based Message Authentication and have their logo validated to gain a blue check. Considering how many UberEats coupons or suggested videos on TikTok tend to clog up email inboxes (for those who, ahem, "forget" to unsubscribe from those promotions), very few actually sport the company's official logo in the account's avatar. The problem with how the system worked before the blue check was even if the account was legitimate, there was nothing on the user's side to clearly indicate it was an official email. For instance, I can click on the eBay symbol on an official promotional email and Gmail offers me no more information on the account save for when it last emailed me.
Gmail's new verified email system can potentially limit the amount of fake spam or malicious emails users might see on their accounts, but even after several major facelifts Google hasn't made a big deal of brand verification besides updates to spam filters. Last year, Gmail announced it was adding end-to-end encryption features, though those security features have not seen a wide release. There's a good chance that AI chatbots will expand the number of fake spam emails users receive, so it might be far past time that Gmail introduces a more permanent solution for corporate email accounts.