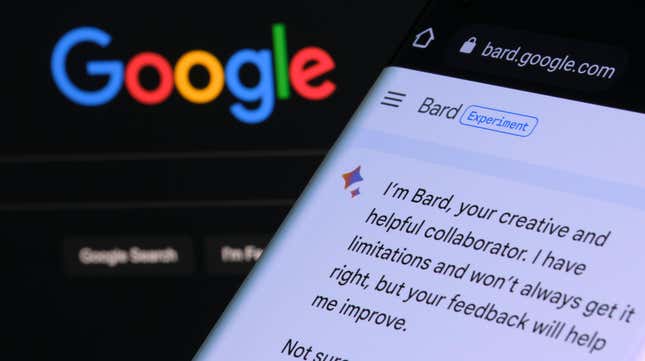 Tired of being stuck at home, Google's Bard AI chatbot is finally leaving its parent's basement and going abroad on a worldwide backpacking adventure. The AI system is now fully and officially available in several long-sought countries, including most of the European Union. To get access to some of those wary nations, Bard needed a lot more than a passport. Regulators said Google will need to supply them regular privacy reports and make more promises to keep users' data safe.
No Google AI Search, I Don't Need to Learn About the "Benefits of Slavery"
On Thursday, Google announced that Bard had learned to sing in many more languages than before. The 43 new languages available in the latest update include the likes of Arabic, Danish, French, German, Hindi, Chinese, Spanish, Portuguese, and many more of the world's most-spoken dialects. The update should be live to all parts of the world, and now users in Brazil and all across the European Union should also have access to the chatbot. Google had previously delayed launch of its chatbot in the EU over privacy issues.
Google widely released Bard back in March, and since then the company has promised more updates over time as it has tried to close the gap between itself and competitors OpenAI and Microsoft. Google has its ongoing beta test for an AI-enabled Google Search to compete with Microsoft's ChatGPT-enabled Bing search. ChatGPT can also handle dozens of languages, though the company has not made an official statement on the number of supported dialects.
In addition to expanded access, Bard is gaining new features that let people pin and rename conversations listed to the left of the Bard page, hear an audio version of responses, and users now have the ability to share links to Bard outputs. Google is also finally letting users access the Google Lens-like feature to share images with Bard, The chatbot can describe the images and even create a caption for the pictures. That feature is currently only available in English, though Google promised it should be available in more languages, eventually.
To get access to the EU market, Google had to make some privacy concessions as the bloc has drilled down on honest-to-God AI regulation. The news also comes just days after the Alphabet-owned company was sued in a proposed class action lawsuit for promising to scrape the entire internet to train its AI services.
Ireland's Data Protection Commission told the Wall Street Journal that Google has agreed to offer regulators a privacy report in coming months. ChatGPT maker OpenAI is also staring down the barrel of those AI regulations, though the chatbot app is available in several European countries.

Google Bard product director Jack Krawczyk told the WSJ the team needed to have real humans sit down and try and prod the AI into giving them harmful responses in each of the proposed languages.
What this doesn't mention is the inherent problem with modern AI chatbots and their training data already making them very western centric. The AI is already capable of understanding languages simply because it exists in their training data. A lot of media hubbub focused on Bard supposedly learning Bengali even though Google claimed it hadn't trained it to do so, but experts said Bengali and other overlapping languages already existed in its training data. The training data for the language model GPT-3 included hundreds of gigabytes of data from the web, most of it from English language Wikipedia, books, and another western centric, oft-used dataset called Common Crawl. According to papers documenting that large repository, more than 50% of the data was hosted in the U.S.
This will inevitably lead to a western bias in the AI's output, no matter what language it's currently using. Google is going to train the AI based on user inputs, but it will take quite a lot of data provided willingly and freely by users to close that cultural divide.
---
Want to know more about AI, chatbots, and the future of machine learning? Check out our full coverage of artificial intelligence, or browse our guides to The Best Free AI Art Generators, The Best ChatGPT Alternatives, and Everything We Know About OpenAI's ChatGPT.