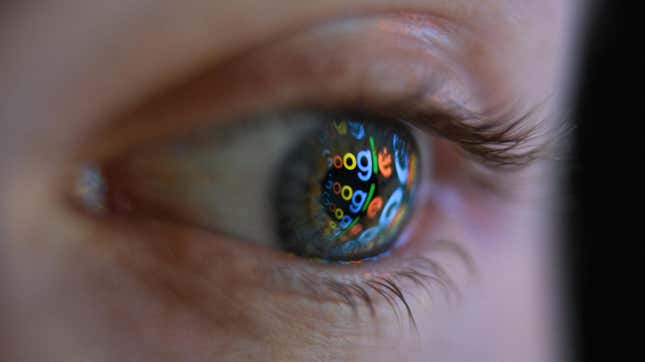 On Tuesday, the US Department of Justice filed an antitrust lawsuit against Google. Joined by eight state attorneys general, the federal government said the tech giant is running an illegal monopoly in the digital ad market, and it wants the courts to compel Google to sell its subsidiary ad businesses, breaking the company into several less hazardous pieces.

Google's Antitrust Case Is the Best Thing That Ever Happened to AI
"For 15 years, Google has pursued a course of anti-competitive conduct that has allowed it to halt the rise of rival technologies, manipulate auction mechanics to insulate itself from competition, and force advertisers and publishers to use its tool," attorney general Merrick Garland said in a press conference.

The text of the lawsuit is a sprawling 149-page complaint, complete with charts, graphs, exhaustive information, and fun new key terms for the kids to learn like "header bidding" and "enhanced dynamic allocation." You've probably cleared your schedule to make time to sink your teeth into every word of juicy legalese, but thanks to this article, you don't have to.
Here's a simple way to think about what the Justice Department is accusing Google of doing: "It's like you're buying a house from a realtor who's also representing the seller," said Joel Cox, co-founder of Strategus, an ad tech company. "It would be pretty hard to measure whether both parties are going to leave the transaction satisfied, but you can bet the realtor is going to get their piece."
Google said in a statement Tuesday that it would fight the suit tooth and nail: "Today's lawsuit from the DOJ attempts to pick winners and losers in the highly competitive advertising technology sector." The company said the lawsuit was based on the same flawed argument that underpinned a similar lawsuit in Texas and would hinder innovation, raise ad fees, and hurt small businesses.
Why did the Justice Department sue Google?
When I joined the privacy journalist Illuminati, I swore a blood oath that I wouldn't bog down my stories with ad tech explainers, so I'll pass the mic back to Garland.

"First, Google controls the technology used by nearly every major website publisher to offer advertising space for," Garland said. "Second, Google controls the leading tool used by advertisers to buy that advertising space. And third, Google controls the largest ad exchange that matches Publishers and advertisers together each time that ad space is sold."
According to the Justice Department, Google abuses its extremely advantageous market position of owning the ad space, the auction apparatus, and tech that matches buyers with sellers. The company has access to information about every part of the countless ad transactions that happen every minute, which gives Google a huge advantage over its competitors—allegedly.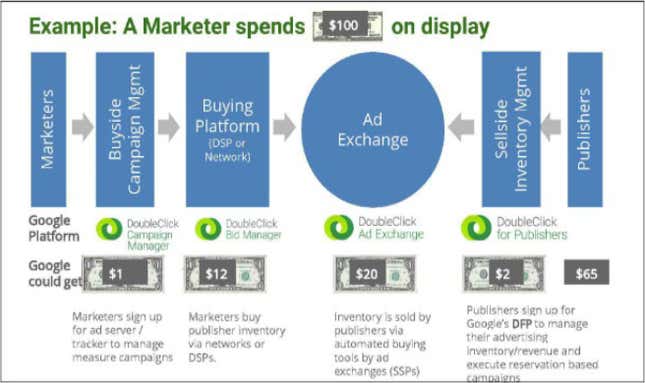 Google actually competes with the publishers who sell ad space and, according to the complaint, manipulates the ad sales in its favor. The company privileges the ad space on its own properties, routing the most profitable ads to places like Search and YouTube (allegedly). On the other end of the transaction, Google knows exactly what prices sellers will let their ad space go for, so it can offer ad buyers a lower price to ensure ads get routed though its system (allegedly). That gives Google three bites of the advertising apple: one from the buyers, one from sellers, and one for handling the sale (allegedly).
If we look to the numbers—who doesn't love a good number—Google itself estimates that it snatches a stunning 35% of every dollar spent on digital ads.

Let's say "you put in $1000 dollars to purchase ads. These transactions complete in milliseconds. Ad exchanges and other middlemen take $300 to $500 of that," said Dina Srinivasan, a fellow at Yale University, who's collaborating on an entirely separate antitrust case against Google in Texas. "We are talking about electronic signals matching buyers and sellers. There's no world in in which these markets should this inefficient."

Google vehemently denies these allegations and the DOJ's description of the ad industry as a whole. Dan Taylor, Google's vice president of global ads, wrote in a blog post that the Justice Department is "attempting to rewrite history" by undoing the company's 12- and 15-year-old multibillion-dollar purchases of the ad tech companies AdMeld and DoubleClick, which expanded Google's empire across the web via acquisition in 2011 and 2007, respectively. "These deals were reviewed by regulators, including by DOJ, and allowed to proceed," Taylor said.

But if you look at a comparison to another, surprisingly similar market, you can see the problem. "Google itself has compared the exchanges and brokers in ad markets to those in financial markets. In both, the brokers and exchanges move at lightning speed," Srinivasan said. "But whereas financial exchanges and brokers that sit in the middle like RobinHood and the NYSE take less than 1 percent on transactions, similar ad exchanges and brokers take up to 30-50%."
Ad tech might be more complicated than finance. But is it so much more complicated that a 35% tax is justifiable? The DOJ doesn't think so, arguing that "competition in the ad tech space is broken, for reasons that were neither accidental nor inevitable."
According to one digital advertising executive, who asked to withhold their name due to business ties with Google, the problem isn't that Google is charging too much. "It's that the asymmetric access to information, which Google exploits to capture disproportionate amounts of the digital market," the exec said.

What's Google's response to the Justice Department's lawsuit?
Google argues that it doesn't have a monopoly, citing increased competition in the market. It's true the company is facing a tough market, though it does so from quite a powerful position. For the first time in nearly a decade, Google and Meta's control of the digital ad market dipped below 50% last year. Amazon and a million other companies from Kroger to Disney to Marriott are launching their own ad networks. (Which isn't to say Google doesn't still have a stranglehold on ads.)
The presence of more ad tech players, however, is a straw man and a "disingenuous" argument, according to the ad executive. "Amazon's relatively nascent in their ad business, and they've built it against the backdrop of threatened litigation and increased competition. And if you look outside of big tech companies, there's really no one competing except for a few, much smaller players," they said. "Sure, maybe it's not a monopoly problem, but it's an oligopoly problem at best."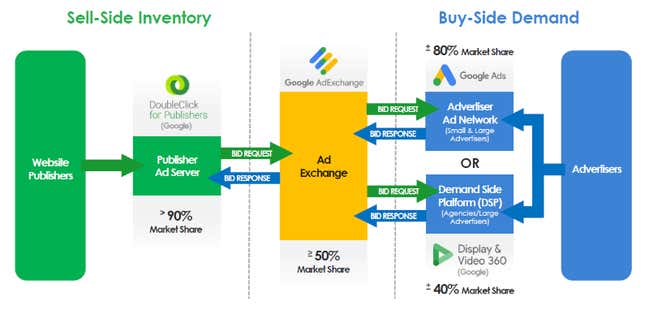 No matter how compelling the Justice Department's argument might be, it isn't a sure bet. The US court system has been slow and hesitant to step in on competition issues in recent years, and over the last few decades, a legal theory has evolved that suggests a company isn't a monopoly unless it raises prices for consumers. Google doesn't do that in a direct way, because most of its services are free. But Srinivasan said that entire conversation rests on false reasoning.

"It does harm consumers. If your grocer has to pay several hundred dollars more for ads, you as the consumer are eating that cost," he said. "If the San Francisco Chronicle makes less money selling ads, we see that as consumers in the form of more paywalls, less budget for employees. It affects the sustainability of a free and independent press. We all see it indirectly, and that has to be why the Department of Justice cares about this problem."
What would happen if the Justice Department won its case against Google?
The Justice Department wants Google to sell off its various ad businesses. If Google is forced to do that—a big if—it could usher in a new era of the web.

"Shifting just a few percentage points of Google's revenue to the rest of the world of publishers and content creators could absolutely improve the news and entertainment that's available on the web, and make advertising more effective and efficient," said Jason Kint, CEO of Digital Content Next, a trade association that represents roughly 80 publishers, including The New York Times, The Wall Street Journal, and Gizmodo parent company G/O Media. "You just can't have a rigged market where one company has insider information in a trade with itself, that's something anyone can understand."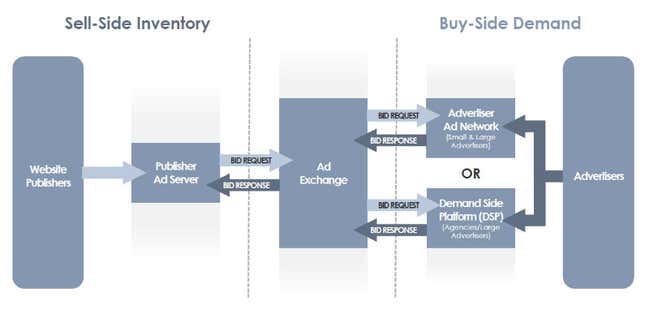 If the DOJ is going to have its way, however, it's going to have to make sure a jury understands it. Having read the 1,000-plus words above this line, you tell me whether that sounds easy.

"Good luck explaining that in court. How complex is all of this? As someone who works in ad tech, my greatest fear is ever having to go to a jury trial. The people deciding my fate are the people who couldn't figure out how to get out of jury duty," said Cox of Strategus, adding quickly, "I'm kidding, serving on a jury is our civic duty. That said, this antitrust case could be a wonderful way to indoctrinate new people into the industry. It's hard for my company to hire people to do this, because they don't teach it in college."
No matter how well Garland and the Department of Justice explain their case to the public and prospective ad tech employees, they have their work cut out for them. Still, experts say this case seems different than a lot of other antitrust actions taken against big tech in recent years.

"The DOJ's suit is exhaustive and seems better formulated than the suit from multiple state Attorneys General from 2020," said ad industry analyst Eric Seufert. "The allegations in the DOJ suit are troubling, but it's unclear how much impact a full adoption of the DOJ's proposed remedies would have on Google's revenues" because Google's advertising network that shows ads across the web isn't as financially significant as the ad business it does on specific sites like Search and YouTube.
While the ramifications of a DOJ victory are hard to predict, there are billions of dollars at stake whichever way you slice the case. Even if Google beats the lawsuit, the antitrust fight could send the company into a downward spiral.

AI tools like ChatGPT pose an existential threat to Google's search business, where the company makes the vast majority of its money. The problem is so severe that Google management reportedly called it a "code red" situation, and roped in its semi-retired founders Larry Page and Sergey Brin to help strategize. Google.com is the most popular website on earth, but Google needs maneuver aggressively to fend off competition right now—which is exactly what it needs to avoid doing with the DOJ breathing down its neck.