Ouya hits some financial trouble, Tesla teases its upcoming announcement, and Google is trying to kill the space bar. Bitstream is the tech news and rumors you might have missed in the last 24 hours.
Technology is always on a quest to be smaller, thinner, and lighter. Apple's new Macbook is the latest example (taken maybe a bit too far), but it's Google that is looking to slim down your laptop's profile—by eliminating the space bar.
No, Google won't be using predictive typing or any such trick to slim down your next laptop. Instead, the recent patent awarded to Google yesterday, spotted by Mike Murphy at Quartz, shows the space bar basically being consumed by the trackpad. A click on the upper region of the trackpad means a space bar click and the lower region acts like any other trackpad. What's the point? Well this has the possibility of shaving a few inches off your computer and adding to that endless march into the future—where everything is teeny tiny apparently.
Does a patent mean a product? Noooope, but Google could always use its Pixel Chromebook as a hardware playground. [Quartz]

G/O Media may get a commission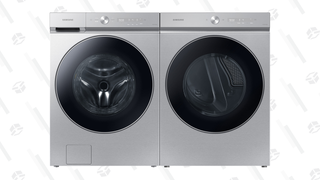 Get $500 back in credit
Last Chance: Samsung Bespoke AI Washer and Dryer Preorder
Apps and Devices
Whispercast, an Amazon service (yes, another one!) that pushes e-textbooks for schools, just hit the big time—it's now used in 130 of the 250 largest school districts in the country. [CNET]
Ouya, the little Android console that couldn't, is now looking for a buyer—for both its wayward consoles and the company. [Forbes]
Talk about digging your own grave. Twitter stocks plummet after the company's earnings leak—on Twitter of all places. [Wired]
LG Watch Urbane is now available in the Google Play store for $350—same price as the Apple Watch. Where do your OS loyalties lie? [Android Authority]
One million people downloaded Periscope in just 10 days—and it was only available for iOS. Pretty. Impressive. [The Verge]
Rumors!
Got a wrist tattoo? It may be messing with your Apple Watch's wrist-detection sensor. But here's an even bigger problem—what if you're not white? [Cult of Mac/Fusion]
Tesla's teasing its April 30th announcement with the bottom image. It looks like a....box? Or something.
Great. Now we have to worry about robots stealing our cars. [Avert Project]
What You Might Have Missed on Gizmodo
Four Missing Features I Want to See in Windows 10
Old Shipwrecks Are Reappearing In Lake Michigan's Unusually Clear Water
When the FAA Blasted Oklahoma City with Sonic Booms For 6 Months
What It Feels Like to Shoot With the Military's Experimental Smart Scope
LG G4 Hands-On: The Slow Perfection of the Old-School Android Phone
---
Top photo altered by me because I am a great artiste.
Contact the author at darren.orf@gizmodo.com.