Google X, the company's secretive arm tasked with dreaming up the future, is as you would imagine pretty ambitious. But in the area of medicine, their plans seem ripped from the pages of science fiction. Today at the WSJD conference, Google X announced a project that wants to track cancer in your blood with the help of nanoparticles and a wearable.
Or so says Andrew Conrad, the life sciences chief with the GoogleX lab, who detailed the the project and discussed some of its forward-thinking aspects. Patients would swallow a pill filled with magnetic nanoparticles that would then attach to your body's cells and proteins. These nanoparticles, which are definitely not nanorobots, would then transmit data—such as the presence of cancerous cells—to a wearable, which could then relay information to your doctor of physician.
This investigation into nanoparticles is one example of Google's ongoing mission to improve our health and also maybe eliminate illness and aging in the process. Sure, why not. Google also treads familiar ground as its work with smart contact lenses also aimed to make health monitoring, especially for diabetes, much easier and less invasive.
On the nanoparticle research front, Google brings a lot of clout and capital to field that's already been busy investigating potential uses for nanoparticles in medicine. Institutions like Caltech, MIT, and more recently the University of Georgia have explored nanoparticles as an alternative for battling cancer, and now its seems that 100 Google specialists will join in that fight.
G/O Media may get a commission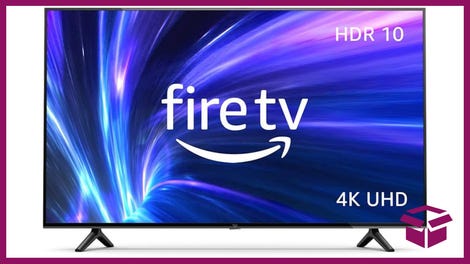 42% Off
Amazon Fire TV 50" 4K Smart TV
As there are many health benefits that would come with such technology, there are equally as many barriers—chief among them being privacy. Conrad assured that Google wouldn't collect or store medical data at all, instead licensing the technology to "others who will handle the information and its security," says The Wall Street Journal. Also, designing these tiny iron-oxide particles and making them recognizes certain cell coatings, has seen progress, says Conrad, but still has some work to be done. This is why all this futuristic medicine won't see commercial use until at least 2019. Which can't come soon enough. [The Wall Street Journal via The Next Web]