Get caught up on last week's happenings at Kotaku with this very special Memorial Day edition of High Score.
Sony got a bit a fanboy fury directed at them last week when rumors surfaced (again) that the pre-owned market for the PlayStation 3 would be essentially dead. But, don't worry, cheap ass gamers, you'll still be able to buy (and play) lightly scratched, greasy copies of Fatal Inertia come late December.
Valve software's Half-Life 2 gets the expansion treatment this week, with the further adventures of Gordon Freeman having gone gold last week. To keep the hype train a-chuggin', Valve also dropped some hints about the release dates of Episodes 2 and 3. Tattoo these dates on your chest! They will not change.
Halo 3 may just be right around the corner, according to reports that Master Chief's third outing is already undergoing multiplayer testing. With such a brief trailer shown at this year's E3, I'm still betting the title is a long way off, despite the fact that something is playable.
G/O Media may get a commission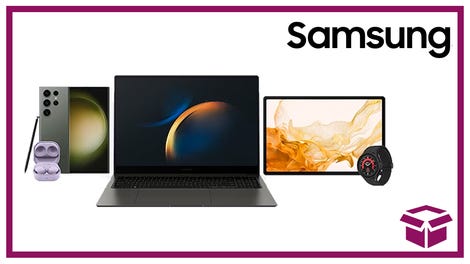 24 hour deals
Discover Samsung - Daily Deal
Former Nintendo sales and marketing veep and charismatic corporate character Reggie Fils-Aime probably got a nice little bump in pay (and responsibility) when he was promoted to president of the American arm of the gaming giant. His predecessor also got a nice step up—he wasn't canned. Congrats, Reggie. I'll buy you a beer next time we hang.
On the Wii front, Nintendo dropped more solid details about pricing for their disruptive console. Citing a price of "not more than $249", but leaving out a definitive MSRP, leads some people to believe that the premium pack will reach the upper end price-wise, while entry-level packs will retail for less.
Internet sleuths dug up Wiikaraoke.com—a Web site that currently redirects to the Nintendo home page, but is clearly intended to be the future home of some karaoke product for the Wii. With the reveal of the Wii-motes included speaker, this shouldn't have come as a surprise to many.
Finally, in the happiest of news, Out magazine is gay for Link! They named him the "Hottest Video Game Character" in their newest Hot List. Just for the record, that's the rugged, mature Link from Twilight Princess, not the doe-eyed stubby elf-boy from Wind Waker.