My personal vote for best thing to appear on Kotaku? That Bully artwork. Hot. Here's what other hot topics hit sister gaming blog Kotaku last week.
Master Chief fanatics jumped for joy then scratched their heads with the news that the director for the upcoming Halo movie had been named. Those concerned about the quality of the big screen adaptation let out a collective "Who?" then beat cheeks over to IMDB.
On the Wii front, tons of details, ranging from release dates to console color to hardware specs popped up on a major news site, only to quickly be pulled. Why? Looks like someone might have revealed a source. The unedited copy was captured by some eagle eyed readers.
G/O Media may get a commission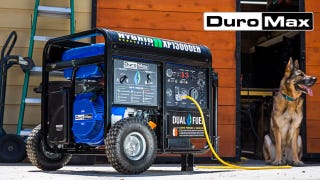 Black Friday Sale
DuroMax Generator Sale
Another juicy detail to be culled from said article, and a source of major speculation, was that IBM may be producing chips for a portable Gamecube. You remember that thing right? Better known as the pre-Wii?
Rockstar's controversial high school adventure beat 'em up Bully got lots of attention last week. The trailer made an appearance online, its most out of touch, most annoyingly litigious detractor made an appearance on basic cable, and it got tons and tons of press.
Brian Crecente sat down with anti-bullying interest group Bullying Online to talk about their opposition to the release of Rockstar's game. They remain suprisingly sane in both tone and argument. Funny how that works sometimes.
In less serious controversy, gamers everywhere with standard definition TV's cried foul at problems with Capcom's Dead Rising. I look at it as a strong argument for no more readin' in my controllable TV shows you Einsteins call "video games". Caveat emptor, y'all!