Learn some details about Stevie Nicks' role on American Horror Story, what new and returning characters we'll soon meet on Arrow, and a longtime Christopher Nolan collaborator may not be involved with Man of Steel 2. Plus, there's a ton of Ender's Game video. Spoilers now!
Ender's Game
There's a lot of new Ender's Game videos out there. First, here are eight clips released by Summit Entertainment. [via Coming Soon]
Second, here is nine minutes of behind the scenes footage and set interviews from Screen Slam. [Ender's Ansible]
---
Star Wars
Benedict Cumberbatch is still playing coy about whether or not he's being considered for a role:
Whatever rumours there are, there have been no offers made. As far as I'm aware, although I've been in a darkened room for the last five days talking about films, no offers have been made to anyone apart from, obviously, the regulars who are returning.

I was a massive schoolboy fan of [Star Wars], you know? I still am. I love that series of films and I really, really enjoyed working with J.J. It was a trip and he's a dear friend. And he knows, he knows my number and that's all that anyone knows.

It's not up to me to speculate. There's been enough of that already. So let's just wait shall we? Until J.J. goes and asks the people he wants to come and play with him. And then I'll talk about it.
---
Tron 3
Tron Legacy co-writer Adam Horowitz says everything's in place for the sequel, they're just waiting for the studio to give them the green light.
Hopefully we'll have some news about what's going on forward with the next one soon.

There's nothing official to announce now but hopefully soon, but it's chugging along. It is. Eddie [Kitsis] and I are co-producers on the film. And we have a script that's being written by a great writer named Jesse Wigutow. And we're really, really excited.

I mean the studio is hopefully excited, but Joe [Kosinski, the director] is involved and everybody's involved and everybody is waiting to get the go-ahead and we're hopeful.
G/O Media may get a commission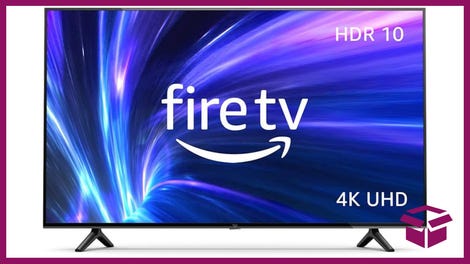 42% Off
Amazon Fire TV 50" 4K Smart TV
---
Man of Steel 2: Batman vs Superman
Despite doing all of Christopher Nolan's Batman movies and the first Man of Steel, Hans Zimmer's not so much on board for scoring the next one:
Honestly, I'm just sort of grappling with that right now. Quite seriously, the thought right now is that no, I don't want to go and take what I did with Chris and just plonk it into another movie. There isn't one good reason to do it, and there are so many good reasons not to do it.

Zack hasn't talked to me about it, so I don't have to worry about it! I'll worry about it when I have to worry about it, and then, if I'm lucky, I'll have an idea. If I have an idea, I can do something with that, but if I don't have an idea, then my good idea is going to be, 'Get somebody else.'
---
Thor: The Dark World
Here are three new clips from the upcoming sequel:
---
Mr. Peabody and Sherman
Go here for a look at all of the first pictures of the movie based on the time travelers from Rocky and Bullwinkle. [Cartoon Brew]
---
The Walking Dead
Speaking with Vulture, Robert Kirkman revealed more about the brand new threat coming for those in the prison:
Pulling in a new threat in your fourth season, I think, is a good thing. Also, it's important to know that this is really just some form of the Spanish Flu. It's something that exists in our everyday world now; it's a time where there is no modern medicine. Scott Gimple, the new showrunner, really wanted to explore that new possibility of the simple things, the really little things, coming to devastate these people. That's what we're going to explore.
He also hinted that this new threat is going to take out many of the new characters that the premiere introduced:
At the end, when Patrick dies, you realize that this is not an isolated incident. [Rick's] pig is dead, we see the walker at the fence … it's a ticking time bomb. Now, all of a sudden, [the virus is] right in the middle of the prison. We set up some great beats. Norman [Reedus, as Daryl] set up a great beat when he licks his fingers then shakes Patrick's hand. You look at it and go, 'Wait a minute, Daryl licked his fingers and shook Patrick's hand and now Patrick is [dead].
[Vulture]
Andrew Lincoln said that episode nine's going to be a big one for Carl:
[Carl] does something this season….Man. Episode 9 is his episode. It's so cool.
[TV Line]
And, here are two sneak peeks at this Sunday's episode, "Infected" [BuddyTV]
Entertainment Weekly has new promo images, one them featuring, yes, Michonne on a horse. [Entertainment Weekly]
---
Arrow
Michael Jai White says that he believes that his Bronze Tiger is being set up for a return:
I don't know for sure at this point, but I think it's a character that they can continue with, and they wrote it that way. I understand that in a series like this, you want to have as many rogues as possible. The tendency is not to kill off a character like this because it's a moving artform. The fun of it is that the story starts to present itself as it goes on. A lot of that is due to the response of the fans. So I know there's more potential for the character that can lead to much more, but understanding the craft, I see it now as possibility, and I hope that he does get to show up again.
More at the link. [Comic Book Resources]
Via Marc Guggenheim's twitter, episode nine will be called "Three Ghosts." [SpoilerTV]
Guggenheim also hinted at some future episodes in an interview with TV Guide:
We're definitely going to learn something pretty big about Diggle... in Episode 6. And we're hoping to meet one or both of Felicity's parents at some point during Season 2.
BuddyTV did a video interview with Stephen Amell discussing how Oliver's different this season and the impact of his decision not to kill. [BuddyTV]
And here's a promo for the next episode, "Broken Dolls":
---
Game of Thrones
In an interview, composer Ramin Djawadi let slip as much as he could about what we can expect from season 4:
There's probably very little you can tell us about season four, but what can we expect with from a musical point of view? Obviously there are new characters coming in with their own themes and themes are going to get retired with most of the Starks disappearing.

I probably can't say too much other than what you just said. Yeah, there will definitely be, or most likely be new characters so I'll be looking to themes for that and also just expanding on existing themes. As the plot expands, so has the music and it'll be interesting to see where, yet again, the story will take me to develop the music further. And that's something that has been an incredible throughout all three seasons - just let the story guide me with what I need to do.
---
Supernatural
According to Misha Collins, Dean's decision to let Ezekiel heal Sam will be a secret from Castiel as well:
Cas and Ezekiel knew each other way back when, but Cas is kept in the dark for a long time about what Dean did with Ezekiel.
[TV Line]
---
Once Upon a Time in Wonderland
Sophie Lowe revealed about what we'll learn from the flashbacks this season:
Through flashbacks you'll discover how she's gotten all these skills. Also, she's been in Wonderland for so long, so she had to defend herself and figure out for herself how she can survive in Wonderland. The way she fights, it's kind of with pressure points because she's not that super strong. She knows exactly where to hit on your body where it hurts the most.


Yes, through flashbacks you'll see why she returned to Wonderland and how important it is for her for her father to believe her. [But] she learns from Cyrus that you don't have to prove things to the people that are supposed to love you. They're just supposed to believe you. There's so much to see!
More at the link. [TV Guide]
Peter Gadiot, the other half of the epic Alice-and-Cyrus romance, explained what it means to be a genie in the context of the Once universe:
Cyrus is a genie. What does that mean in the context of this show?

In the context of this show, it means that I have been essentially a slave to other people's desires for a while. A servant who has no powers to help himself, but has unlimited powers to fulfill the desires of others.

More specifically it means that all the other protagonists want me. Alice wants me for love — for genuine reasons, but all the other characters want me so I can fulfill their own selfish wishes. You'll see that in various ways and different strands of narrative each of those characters are in their own way pursuing Cyrus.

What are the rules around what he can do?

There are definitely rules in terms of the laws of magic that has explicitly set out. There are rules to the number of wishes each person can have. It's quite standard, it's the three. But in terms of the actual powers that Cyrus has and he can do, that's very much a gray area.

I kinda get beat up a bit. I'm like surely I could defend myself or do a bit of magic and they're like "nope." I just get my ass kicked a lot by all of these magical things. It's all magic. No one actually touched me. It's a kinda a mixed bag. There's firm rules for the wishes and the magic I can give to people, but my own personal power is seemingly non-existent.
More at the link. [Buddy TV
---
The Vampire Diaries
Actress Kat Graham said that the death of Bonnie's father is really going make her think about what she could have done if she was alive. And that there's a deep and long-lasting connection between her character and the new one, Tess. She also said that Bonnie's desire to keep her death a secret, and the new thoughts she'll have after her father's death, will have a huge impact on Jeremy:
Jeremy is literally holding the key that locks the secret. So, he's going to be struggling with a lot in the next few episodes and be put in a position where there's a lot of pressure on him. You'll see Jeremy have to make some really crazy decisions.

They continue to evolve and grow, and it's exciting because Bonnie has never had that before. So, it's new territory for her. She's always been about her magic and her girlfriends and saving the town. So, for her to have these moments with Jeremy are really special.
More at the link. [TV Guide]
---
Tomorrow People
In an interview, Madeleine Mantock (Astrid) says that, for now, most of her character's role on the show will revolve around Stephen. She revealed that they've known each other forever, and are best friends, but that Astrid is harboring a massive crush on Stephen. She also revealed what Astrid knows and what she suspects is going on with Stephen:
She just knows something's off, and that he is taking medication. She's aware of the history with his dad that's the same kind of thing. But I think she doesn't want to believe it, 'cause she sees all that's good in him, and she doesn't want the two to go together. Then as the story goes on, I think she just thinks it's something else. She knows he's holding something back, and that's why they fall out all the time, because she's kind of like 'I don't know why you're not just telling me! I'm not judging you. Whatever it is, we can take on the world together'!" Madeleine explains to us. "I don't think she necessarily does think he's actually schizophrenic, but so many times, she's like 'I know you're not taking your medication, 'cause you're being weird.' I don't actually think she thinks he's mad. Partly because she doesn't want him to be, 'cause she loves him.
And here's the synopsis and trailer for episode three, "Girl, Interrupted."
GETTING INVOLVED —- Stephen (Robbie Amell) reluctantly attends a party with Astrid (Madeleine Mantock), but is startled when he hears that one of his classmates is in peril. Desperate to help, Stephen turns to John (Luke Mitchell) and Cara (Peyton List), but they make it clear that they do not help humans. Stephen secretly tries to enlist Cara's help, which brings up her own feelings about her traumatic past. Meanwhile, John gives Stephen a mission to infiltrate Ultra's main computer to help give them an advantage in finding new break-outs.
[K Site TV]
Here's the extended promo for the third episode. [via SpoilerTV]
---
Haven
Here's a sneak peek at tonight's episode, "Countdown" and a behind-the-scenes look at the town where the show is filmed.
---
Revolution
Two new male characters will be introduced by episode 11. One will be "charming and charismatic" and the other will be "power-hungry and headstrong." Either one could be treacherous, however. [E! Online]
Here's a promo for episode 2.05, "One Riot, One Ranger." [via SpoilerTV]
Go here for a complete set of promo photos for the same episode. [SpoilerTV]
---
Sleepy Hollow
The Golem will turn up in episode nine as a foe and the casting call for the part decribes him as over six-feet tall and comfortable with prosthetics and stunt work. Also being searched for are actresses for Irving's thirtysomething ex-wife, Cynthia, and teenage daughter, Mae. [TV Line]
---
Beauty and the Beast
Someone, not Vincent or Cat, will be dying before the midseason finale. Is it Tess? Gabe? (It's Gabe, isn't it?) [E! Online]
Riley Smith will play "The Bombmaker" in Episodes 7 and 8. "The Bombmaker is described as an assassin who uses explosives, has major problem with beasts, and is "sophisticated." [TV Line]
Go here for a complete set of promo photos for episode 2.5, "Reunion." [K Site TV]


---
American Horror Story: Coven
Here's the synopsis for episode 4, "Fearful Pranks Ensue":
1961: When an African American teenager is lynched, Marie Laveau, who has no faith in the Civil Rights Movement, takes a ghastly revenge.

Today: Queenie has been horribly violated and terribly injured, and Fiona blames Marie. She won't send Queenie to a hospital; they'll take care of her themselves to avoid attracting attention... and the wrath of the Council of Witchcraft. But Fiona does send Marie a bloody message... one that will rattle the decades-long truce between the Salem witches and the Voodoo Queen. Meanwhile, Zoe tends to a traumatized Kyle, but when he runs away, she must find him before he can do any more harm. And Madame LaLaurie is worried, because today is Halloween – the day that fearful pranks ensue if the proper offerings are not made. As Fiona scoffs at her superstitions, an enraged Marie prepares for a terrible payback, and a humbled Madame LaLaurie finds herself indebted to Queenie. Myrtle, Quentin and Pembroke, three representatives from the Council of Witchcraft, come to pay a visit; unaware of Queenie's condition or the violation of the truce with Marie, they come on far graver business – business that could be bad news for Fiona. Myrtle has had dire suspicions about Fiona for a very, very long time. But both Spalding and Cordelia have secrets that will impact the Council's investigation. Elsewhere, we learn that Hank, too, has a secret. And as Halloween night falls, a terrifying army is raised, the girls go out to search for a missing friend, and Spalding hosts a ghastly tea party.
Ryan Murphy explains how he got Stevie Nicks came to be involved with the show:
You actually asked Stevie to use her music on the show, right?

Yeah, the whole thing started with the fact that when I was growing up, I was always obsessed with those Stevie Nicks songs like "Riannon" and "Gypsy." And I remember reading an article where Courtney Love called Stevie Nicks the "white witch" and Grace Slick the "dark witch." And I have a good relationship with Stevie because of Glee. She is one of the few artists that have come to hang out. She had been writing Lea [Michele] and I regularly since the Cory [Monteith] situation, because she really loved Cory [who passed away in July]. So she's just a wonderful, wonderful person.

When we got to this witch idea, I thought, if you're Misty and you have grown up alone and you don't know any other witches, there's one witch you probably would know and that's Stevie Nicks. So I called Stevie Nicks and first I said, "I want to use you in the show." But she was very resistant because from the beginning of her career people who are in the Wiccan community had given her a hard time thinking she was a witch and she got a lot of scary fan letters. She didn't like the darkness of that, and I explained to her the part and she's like, "Aw f—, let's just do it. OK, I love it." She's not a witch, but she has an attraction to those mystical creatures because they're fun to write about. So she gave me the rights to her music and she and Lindsay Buckingham are working on a special sort of redo of a song they did about a witch.
Here's the promo for episode 3, "The Replacements." [via SpoilerTV]
---
Grimm
David Giuntoli says that he'll be going "beserk" when the series returns, just "mean" and "physically aggressive." Also going on this season is the others discovering that Nick may not be the only Grimm, Monroe and Rosalee hooking up, and a pregnant Adalind trying to get her powers back. Here's a photo of zombie Nick. [Entertainment Weekly]
---
Almost Human
According to J.J. Abrams, the thing that will set this show apart is the characters:
What I love about the show is its great characters in an incredibly unique situation, so the world is something that doesn't feel like anything you've seen on TV. The characters are very unique.

They're both funny, they're both broken in their own ways and they're just getting to know each other.
---
The Originals
Here's a promo photo from episode five, "Sinners and Saints." [SpoilerTV]
Additional reporting by Charlie Jane Anders and Emily Stamm