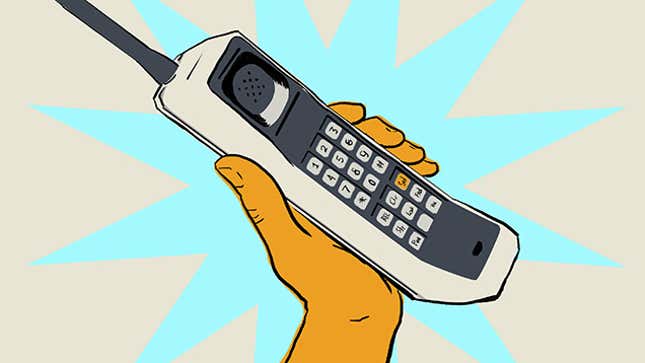 Hi. My name is Mia, and I'm a millennial who doesn't own a smartphone.
Yes. Take a moment. Maybe tweet about it #dumbphonesbelike. Snapchat a picture of you looking horrified. Send a ghost emoji to a loved one.
Caleb McLaughlin Wants to Play Static Shock
There are plenty of millennial stereotypes I happily take part in, like discussing how much I "can't even" and loving Beyoncé. Owning a smartphone is not one of them.
IS THIS ONE OF THOSE IRONIC LIFESTYLE CHOICES, LIKE HANDLEBAR MUSTACHES OR WHATEVER?
Maybe in the Alanis Morissette "it's a free ride that you already paid" kind of irony. Except it is a free ride because my parents are paying for my phone, which is the main, if not entire reason why I don't have a smartphone.
SO WAIT IS THIS NORMCORE THEN?
Is being financially dependent on your parents part of normcore? Is avoiding adult responsibilities very in for 2014?
SO JUST TO BE CLEAR, YOU'RE NOT TRYING TO BE ONE OF THOSE ANTI-MILLENNIAL MILLENNIALS WHO REJECTS MILLENNIAL TRENDS AND STEREOTYPES?
Nope! Also, I'm pretty sure whenever you say "millennial" three times in a sentence, a vegan cupcake is born and a think-piece on the most feminist Instagram filters just appears.
BUT WHAT ABOUT APPS?
My phone came with a free week trial of Pac Man, if that counts. I've also wasted a lot of time with the calculator. Oh, and last week while waiting for a meeting to start, I played "How Many Years Are On My Phone Calendar?" My current record is 2058.
HOW DO YOU TAKE PICTURES?
I have one of those things that takes pictures but isn't part of a phone… I think it's just called a camera? Who knows.
THE SCREEN IS SO SMALL.
It also doesn't do anything if you touch it.
HOW DO I MAKE PICTURES BIGGER IF I CAN'T PINCH TO ENLARGE?
Take a closer picture to begin with, I guess.
HOW DO YOU CROP THEM FOR INSTAGRAM?
I can't even access the internet on my phone, let alone use apps like Instagram. I use my phone to call, text, and set alarms and reminders. That's about it.
WHAT DOES THIS SO-CALLED DUMBPHONE LOOK LIKE?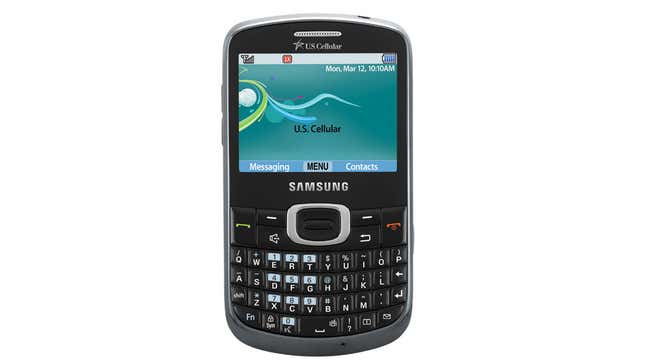 OH SO IT'S A BLACKBERRY? BLACKBERRIES ARE SMARTPHONES!
Nope. This is a Samsung "I'm Only Aspiring to be a Blackberry" Freeform. I don't think it even knows that iPhones are a thing. It boasts groundbreaking features like "built-in speakers" and "ability to change the text on the background banner." Mine currently says, "how do i get back to 2003?"
CAN IT AT LEAST DO VIDEO?
Sure! Just pull up an existing video on your laptop, take a picture of the screen using the CAMERA FEATURE!!! on the phone, and send it in a picture message.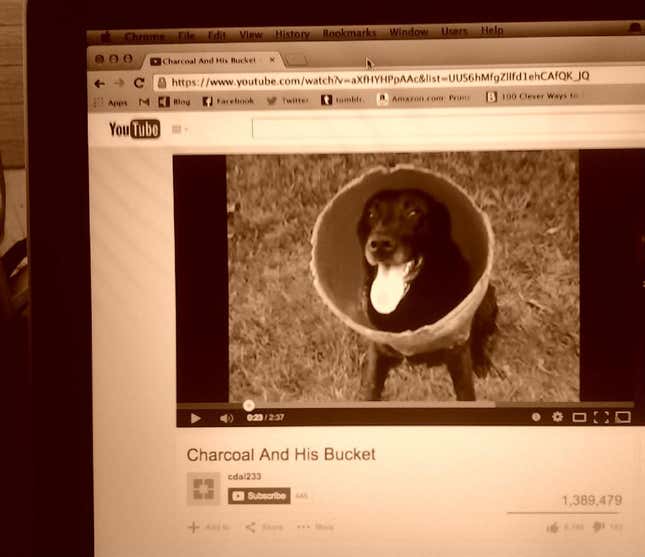 Wow. Amazing. I even put a sepia filter over it. Can your Android do that?
SO WHAT CAN IT ACTUALLY... DO?
Okay, here's the official features rundown. It's not pretty, but it's enough to get me through the day.
Clock
Speakerphone
Speed dial
All 26 English letters
The numbers 0 – 9. BONUS FEATURE: Number pads are highlighted in gold to make you feel rich and fancy even though you're still too poor to be on your own phone plan.
Takes a good 10-15 seconds to send and receive picture messages. You can use this time to contemplate life and your choices. (i.e. Why don't you just buy a smartphone?)
T9 word that assumes when you write 'great' you actually mean 'gr8.' It's the textual equivalent of a mom saying, "See, I know about your cool teen lingo."
BUT WHAT ABOUT MAPS? HOW DO YOU GET AROUND?
I have a GPS in my car, which is great because I have a notoriously bad sense of direction and respond well to passive-aggressive British voices.
One time my GPS broke while I was lost and running late driving to the airport. After a mild panic attack, I called my mom (who lives three states away), gave her the cross streets of where I was and had her Google directions to the airport from there.
While not a daily or even weekly occurrence, this is admittedly not a rarity. There have been multiple times when I've called my mom to double-check addresses, look up phone numbers, or even send important emails I've forgotten to send. Pretty much everything short of asking my mom to order a pizza for me, I've called and asked her to do while I'm not near a computer.
My mother is a saint. She's basically also my smartphone.
ARE YOU SAYING EVERYONE SHOULD GET RID OF THEIR SMARTPHONES AND CALL THEIR MOMS MORE?
Yes to the call your mother part. As far as getting rid of your smartphone, that seems dramatic—maybe don't do that. Smartphone-less life probably seems like less of a big deal to me because I've never owned a smartphone. I completely recognize why they're are great and undoubtedly beneficial for the progression of the world. You can be on an airplane, take a selfie, post it to Facebook, and have a couple hundred of your closest friends see it almost instantly. That's amazing. But it isn't always necessary.
You know that naked feeling you get when you realize you've forgotten your phone somewhere and have to go an hour or (gasp) a day without it? Rather than rushing to cover up that nakedness with a nearby tablet or the iPhone of a passerby, embrace the freedom a little. Enjoy the fleeting moment of not being tethered to a device that can tell you anything about anything at any given time. Try to remember the name of that movie without looking it up. Don't Google Macaluay Culkin's age from that public bathroom. Do you really need to scan that QR code? (Does anybody scan QR codes?) Just be present and live in blissful ignorance, if only for a moment.
If you get too lost, you can always call my mom.
Image by Tara Jacoby