Writing instruments contain a weird, almost alchemical power. To anyone who hasn't experienced it, this will sound like a crazy idea—but for some of us, pencils are almost like magic wands, containing powers that can either help or hinder your process.
The German company Rotring has been capitalizing upon that feeling since 1928, when the fledgling company produced its first a stylographic pen—a novelty amongst fountain pen users in Europe. Roting became a favorite amongst Bauhaus designers, distinguished by its eponymous red ring. But the company didn't really come into its own until the 1950s, when it unveiled a specialized technical pen called the Rapidograph, which revolutionized how engineers and architects worked.
The mere fact that Rotring is still around—despite the fact that virtually zero designers still hand-draw their technical plans—illustrates how uniquely devoted fans are to these heavy, expensive writing utensils. But Rotring, against all odds, is still going strong in the age of computer-aided design. And when its newest pencil showed up at our office recently, I found out why.
The 800+, as the new model is called, is a hybrid. At first glance, it looks like Rotring's classic 800 model mechanical pencil: A heavy, six-sided brass body with a subtly rough grip for your fingers, a clip for your shirt (you dork) and of course, its trademark red ring. But at its tip, a small rubber nub explains the little plus sign at the end of its name—it's a stylus, too, and works exactly as other styluses on the market do.
G/O Media may get a commission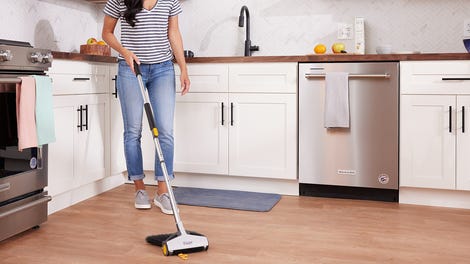 BOGO 50% Off
Flippr - BOGO 50% Off
The feel of it, though, is what matters: Heavy, cold, and full of potential. For weirdos like me, who have obsessed over finding the right pencil since they could hold one, it feels like holding something immensely valuable—as though all the good things to come out of it have been hydraulically compressed and shoved into its thin frame.
There's a catch, of course. The 800+ is immensely expensive for the average consumer, at €70 or $95. It's the kind of price tag I would normally scoff at.
Yet after having used it for a few weeks, I'm not so sure. Until my adult life, I drew constantly—it was the most exciting, important part of my every day life. Now, of course, my days start and end with a keyboard and a mouse. It's not as though I miss drawing and writing by hand. Actually, I didn't feel much about the transition at all.
But as trite as this sounds, holding this pencil makes me want to draw. It's magnetic. If that's worth a nice dinner or two to you, then I'd highly recommend the 800+. If not, than this isn't the pencil for you. [Rotring]