While every Apple Store is in some sense a place of reverence, the new Upper West Side store unabashedly evokes that feeling, more than any other. It used to be a Victoria's Secret.
Update: For everybody asking for full-sized pics, you can grab 'em here, off my Flickr page.

I call it a temple because the architecture conveys a nearly religious aesthetic, a place to worship Apple, beyond any other Apple store you've ever been to. The top floor's a vast open space, enclosed by spartan stone walls which support a massive glass ceiling. The rows of tables in the main room feel like pews.
I can't tell you—and the pictures can't show you—how utterly open and expansive the room feels. Apple says it has more demo units than any other store in the world. To give you an idea of the space, the walls are 45 feet tall, and could fit 11 Apple 5th Avenue Cubes inside. It's the spareness that's breathtaking. It's cold. Not literally, but the stone walls, the glass, the sheer space rob it of any sense of warmth or feeling. The only sense of life in room is the products. It's a temple to them, really.
The beating heart, where things actually happen is tucked underground. The Genius Bar and personal training space is the biggest ever in an Apple store, able to handle up to 100 customers at once at 45 feet long. It's pretty much like any other Apple store down there, just bigger.
G/O Media may get a commission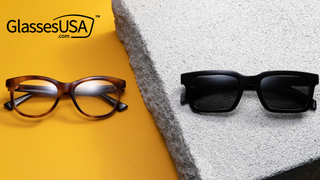 60% off frames
GlassesUSA.com Back to School Sales
It's impressive. The store, at 67th and Broadway, opens Saturday. And they're giving away 2500 commemorative shirts if you're that kind of crazy.
Apple Store Upper West Side Opening on Saturday, November 14

NEW YORK-November 12, 2009-Apple® will open its newest retail store on New York's Upper West Side on Saturday, November 14 at 10:00 a.m. Set beneath a breathtaking all-glass arched roof, the street level of the Apple Store® Upper West Side offers more Macs, iPods and iPhones than any store in the world for an incredible hands-on experience. The lower level features the largest area ever created by Apple for personal training and technical support, including a 45-foot Genius Bar. Located on Broadway at 67th Street, the Apple Store Upper West Side is just minutes from Lincoln Center and Central Park.

"We opened our first store in Manhattan seven years ago, and the response has been incredible," said Ron Johnson, Apple's senior vice president of Retail. "We hope our new store on the Upper West Side will become as much a part of the community as our stores in SoHo, the Meatpacking District and on Fifth Avenue."

A highly trained team of more than 200 employees brings the unique Apple retail experience to the Upper West Side, offering the same legendary services that Apple stores provide around the world. At the Genius Bar, customers can get free advice and expert tech support from knowledgeable experts. Customers who buy a Mac® at the Apple Store Upper West Side can join the popular One to One program for personal set-up service and personal training for just $99. Visitors can also get free tips from Specialists who are on-hand to help shoppers find the perfect gift or choose the right Mac, iPod® or iPhone® for themselves.

In time for the holiday season, customers can now reserve their favorite Apple product online at www.apple.com/retail/reserve and pick it up at their local Apple store between December 15-24. Apple retail stores will also gift wrap any iPod or portable Mac for just $5.

The Apple Store Upper West Side is the fourth in Manhattan and Apple's 15th in the New York metro area, joining the hugely successful Apple Stores SoHo, West 14th Street and Fifth Avenue. Nearly 170 million people on four continents have visited Apple retail stores this year. Apple now operates 280 stores in ten countries including the US, UK, Italy, Australia, Canada, Japan, China, Switzerland, Germany and France.

The Apple Store Upper West Side is located at 1981 Broadway, on the corner of West 67th Street. The first 2,500 visitors to the store will receive a limited edition, commemorative t-shirt.
Apple ignited the personal computer revolution in the 1970s with the Apple II and reinvented the personal computer in the 1980s with the Macintosh. Today, Apple continues to lead the industry in innovation with its award-winning computers, OS X operating system and iLife and professional applications. Apple is also spearheading the digital media revolution with its iPod portable music and video players and iTunes online store, and has entered the mobile phone market with its revolutionary iPhone. Click to view