There are a lot of really great updates to iOS 8, which just launched today. We've unearthed some of the less obvious tricks and features that are going to level up your iPhone and iPad in a hurry.
---
An All-Knowing App Store
We never used Wish List all that much much in the App Store, but it's gotten a lot stronger in iOS 8. Not only does it remember every single app we tell it that we want to download later, it now keeps track of songs we ask Siri about, and even culls our iTunes Radio listens and Music Store previews for suggestions—just in case we might have forgotten to buy something.
---
G/O Media may get a commission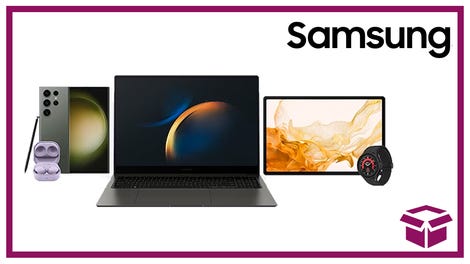 24 hour deals
Discover Samsung - Daily Deal
More Customizable Mail
Apple is always trying to beef up its Mail app, and we're liking what we see so far in iOS 8. We were begging for some triage power, and Apple has responded in its own way, enabling long-swipe deleting of messages and letting us customize the left swipe with either Mark as Read/Unread or Flag/Unflag buttons. And Mail is smart enough now to fetch all related messages in a conversation, no matter where they're hiding. It's no Mailbox, but it's a start.
---
A View of Which Apps Are Murdering Your Battery
Battery life will be an issue on our iPhones until Jony Ive figures out a way to charge them kinetically, but at least in iOS 8 we'll know why they're draining. A new option in the usage menu of the Settings app lets us see which apps are responsible for our red battery icon—so we'll know if Twitter is hogging our juice or we're just playing too much Candy Crush.
---
Swipe to Dismiss Notifications
The Notification Center got something of an upgrade in iOS 7, but Apple actually made it useful in iOS 8. It's been whittled down to two tabs—today and notifications—and you can quickly customize your widgets without zipping over to Settings. And now you can dismiss a notification with a simple swipe, saving precious seconds spent trying to tap those dastardly X's.
---
A Smarter, Safer Safari
Since we still can't change out Apple's default apps (although you do have ample alternatives), we're pretty much stuck with Safari for another upgrade cycle. Fortunately, Apple has made that less of an issue in iOS 8.
Those concerned about prying eyes can set the ultra-private DuckDuckGo as the default search engine. You can say goodbye to mobile-site headaches, too. Just pull down on the favorites screen to request the desktop version of whatever site you're on. And while you're at it, check out the new list of your most frequently visited sites.
---
A Notes App You Might Actually Use
We don't know many people who actually use Notes, but perhaps that'll change now that we can underline text and add pictures. But we doubt it.
---
Fine-Tuned Camera Controls
Apple added some cool features for shutterbugs in iOS 8, but one they didn't talk about is being able to manually tweak your exposure while setting up your shot. Just tap as you normally would to focus and you'll see a little slider that'll adjust the shutter for the proper amount of light.
Also new is a time-lapse mode to make those cool stop-motiony movies, and a three- or 10-second timer for all of us who are sick of taking selfies.
---
Channeling the Weather
In iOS 7, the Weather app got a marquee makeover, but in iOS 8, the changes are more than skin deep. Rather than getting its forecasting information from Yahoo, Apple went straight to the source, pulling temperatures and conditions directly from The Weather Channel, making for a more accurate snapshot.
Also, you can look nine days ahead now and get an hourly forecast for a full 24 hours (instead of 12) as well as a short description of what's to come without needing to pull down the Notification Center.
---
Personalized Share Sheets
Apple's new app extensions could very well end up being the greatest feature in iOS 8 and change the way we work on our mobile devices, but we're still going to be stuck using the same old share sheets that we've had since iOS 6. At least we won't have to swipe to get to the app we want, though; Apple's made share sheets in iOS 8 completely customizable, so you can put the important ones right up front.
---
Location-Based Lock Screen Notifications
We were so amazed when we first saw this on MacRumors, we had to go check it out for ourselves. Sure enough, Apple has built elegant notifications right into the lock screen. Just walk into (or by) a Starbucks and a tiny icon will appear opposite the camera shortcut. Pull up and you'll be magically transported into the app and ready to make a purchase.
Any other favorite hidden features that we missed? Take a screengrab and share them below! This post originally appeared on Gizmodo on June 6, 2014, and has been edited for timeliness.
Top image credit: Shutterstock/Stokkete