This week at iLounge: A massive overhaul of our realtime Accessory Guide has made it easier than ever to search through our database of well over 2,000 iPod accessories. Covering over 50 different categories, the guide is packed with speaker, headphone, FM transmitter, and case reviews, plus First Looks at the latest and greatest new accessories.
In reviews: Besides reviewing a staggering number of second-generation iPod nano cases, we've looked at the weirder new genre of Speaker Cases, a Frankenaccessory combination of speaker and iPod case you never knew you wanted. Three such monsters were reviewed this week: iHome's $70, bike mount-ready iH19 is the best of them, followed by Kensington's $30, NXT flat panel speaker-based FX 300, and then another $70 one called iMainGo, which had a smart design but serious speaker problems.
Also, clock radios: In anticipation of the arrival of XtremeMac's cool-looking Luna, we looked at two low-end clock radios from Jensen and Excalibur, each sold for under $80. Jensen's square JiMS-190 sounds good, but readers have complained about different electronic problems from unit to unit, while Excalibur's iBlaster Clock Radio ships with a busted AM radio and flat, muddled sound.
Astroturf Watch: This week's phony viral iPod marketer is iSymphony, a company that grafted an iPod dock on top of an otherwise unremarkable CD player and speaker system. We've caught iSymphony posting multiple fake comments pretending to be from satisfied customers, and they've continued even after admitting to it, so we've had to warn our readers. Does the world really need another boring iPod speaker system? We think not.
In news: Apple posted its Best of 2006 iTunes charts, revealing the 100 most downloaded albums and songs on the iTunes Store. Analysts said they expect Apple to sell between 15.5 and 17 million iPods this holiday quarter. comScore Networks reported that revenue from the iTunes Store rose by 84% during the first three quarters of 2006 versus last year. And Marware and DLO both introduced new products for the second-generation iPod shuffle.

G/O Media may get a commission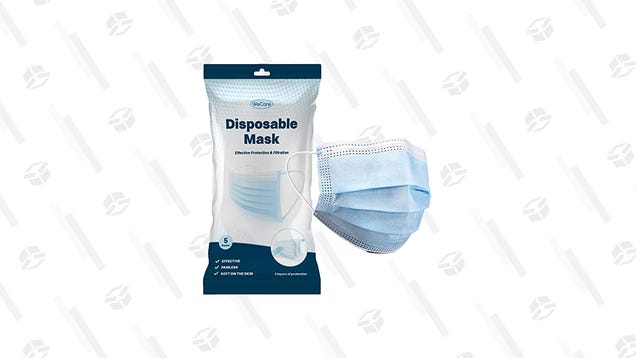 WeCare Disposable Masks With Elastic Earloops- 5 Pack