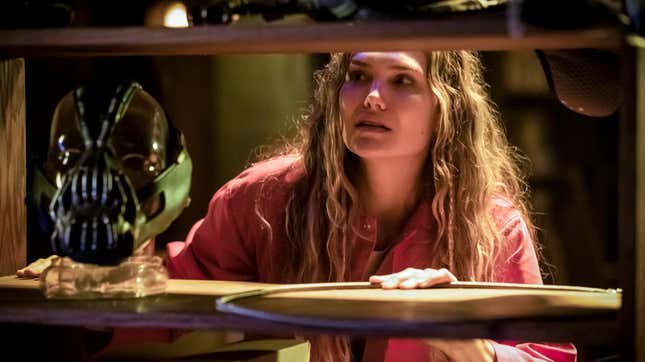 Holy mumbled dialogue, Batman!

Ok. I don't want to cause any alarm or get anyone unduly excited but...the CW just released new photos from the 2018 Elseworlds superhero crossover and there is a multiverse-spanning item staring us in the face.
Bane's mask.
And not just any Bane mask. One that looks eerily similar to the one Tom Hardy wore in Christopher Nolan's The Dark Knight Rises.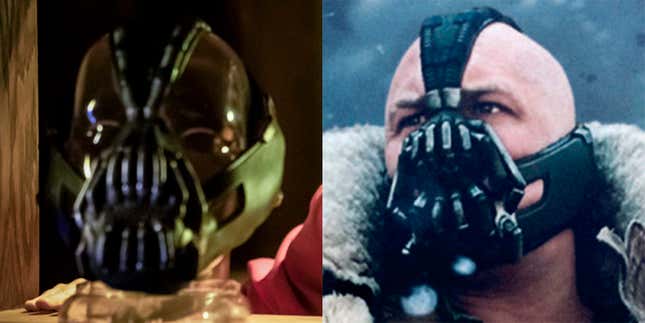 Will it amount to anything of substance? Likely not, but it's freaking awesome. The CW super-shows have nodded to past DC TV productions in recent years, most notably the '90s Flash series starring John Wesley Shipp—and they might have even connected Smallville recently—but a nod of this magnitude is wild.

Bane has made an appearance on Gotham this season with a very different look but he's not been namechecked in the Arrowverse at all. Though many Batman enemies and Wayne references have been thrown around here and there. Warner Bros.' TV and movie universes haven't had great synergy (much like Marvel). Deathstroke and even Harley Quinn were both on paths for bigger or potential storylines on Arrow until the Suicide Squad film sorta stole them away. Then again, Superman has had guest appearances on Supergirl so maybe things are loosening up?
We already knew Nora Fries, wife of Mr. Freeze, would appear in the crossover this year. It's still not clear which Earth she's from but it seems likely the same as our new arrival, Batwoman, and well, now Bane. It's a very big multiverse out there with an infinite amount of universes. Could Nolan's world be one of them? Let the games begin!
---
For more, make sure you're following us on our new Instagram @io9dotcom.