In the wake of its tremendous popularity, everyone's wondering about is how Pokémon Go intends to make money. In addition to in-app purchases, Niantic chief John Hanke has said that the game intends to create "sponsored locations," as they did with their earlier game Ingress. And a few enterprising Redditors apparently figured out who the company's first customer will be.

Did Elon Musk Regret Buying Twitter? | Walter Isaacson Interview
After decompiling the Android version of PoGo, Australian student Manu Gill discovered a few odd-looking strings that he believes indicate a sponsorship system has already been included in the game's code. While it has yet to be activated for players, one those strings mentions the world's-largest hamburger chain, McDonald's, by name. Redditor KcYoung claims to have found the McDonald's logo in the game's code, an oddity that NeoProfessorWillow also claims to have stumbled on.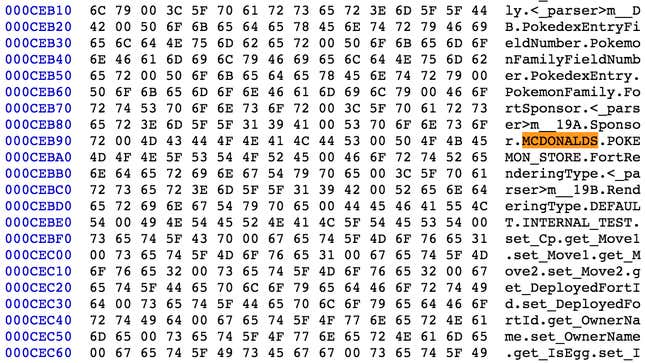 "In /assets/bin/data/managed/metadata, I found a file that looked like it was promising," Manu told Gizmodo via Reddit private message, "So I opened it in a hex editor. The first chunk was garbage, but I eventually got to a bunch of strings. I just searched things until I got things that were promising, for instance, I searched sponsor and partnership and got to the McDonald's string set."

If the code is correct, it looks like Pokémon Go's first sponsorship is a big one. "Based off what I've found it looks like they're going to hold a promo with McDonald's which'll turn them into all gyms," NPW told Gizmodo, also via Reddit private message.
Unpacking game the data has also led to some unusual discoveries about game mechanics that aren't currently available on the user side, according to NPW. These include a legendary monsters, a trading system, four additional types of berries and incense, an item called "sweet honey," and natures like "stoic" and "raider" that might have some effect on trainers or Pokémon themselves.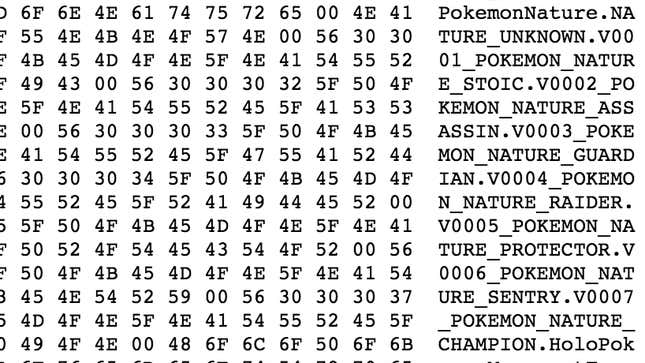 We've reached out to Niantic and McDonald's for comment and will update this post if we get a response.