Here are some things that cost $100 million: Making the film Gravity. Recent U.S. airstrikes in Iraq. And now, a two-story penthouse occupying the 89th and 90th floors of the new super-luxury high-rise at 157 West 57th Street.
$100.47 million is the exact amount that an anonymous buyer—no, not that lady you see above, she's a Photoshop ghost—paid for the window-walled apartment, which evens out to about $9,000 a square foot. The two-story duplex encompasses 10,923 square feet, which is about 3.8 times larger than the average size of a new home in the United States—not terribly much larger, in relation to the cost. But hey, this mysterious billionaire buyer is getting access to what the Daily News calls "uber luxe" amenities, like a steam room, a theater, a library, and more.
More rich-looking Photoshop ghosts, probably on their way to ghost opera.
Over the past two years, we've been watching a clutch of new residential towers climb skyward along this single block of Midtown Manhattan. a development boom that's not only extraordinary for its prices, but also its heights. One57 is actually the shortest of the new additions, at just over 1,000 feet, but then there's 432 Park (1,398 feet), 111 West 57th Street (1,421 feet, and 40 feet wide), and 225 West 57th Street (1,550 feet).
G/O Media may get a commission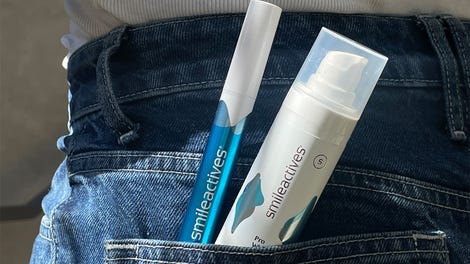 58% off
Whitening Powerhouse Pen & Gel Duo
And these aren't just apartment buildings: They're more like single-family mansions stacked on top of each other, creating a relatively low number of new units that just happen to be add up to one gigantic building. Most of these apartments will probably sit empty for most of the year, meaning their owners won't need to pay a huge chunk of the taxes that the rest of the city pays. Oh, and they'll be creating permanent shadows along the south end of Central Park, too.
So if One57's record-breaking penthouse seems insane, you're going to want to hold onto your butt. Within the next few years, we're going to see many, many more records set—probably along this single boulevard. Barring a crash, of course. [The Real Deal]