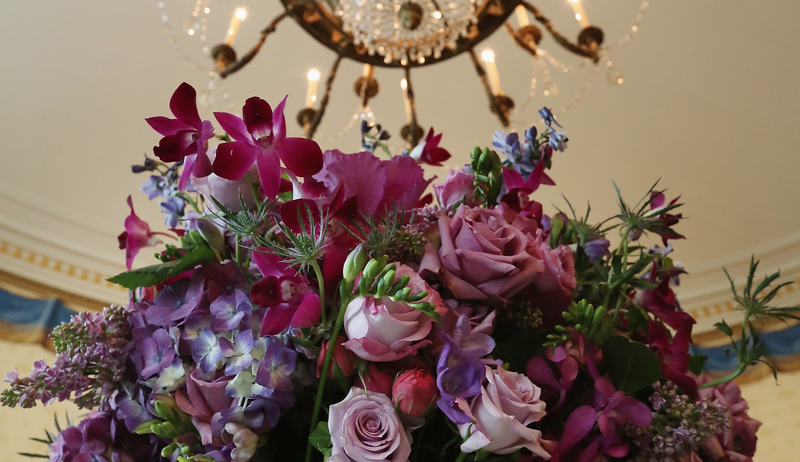 In the hallowed halls of our nation's capital, a shadow war that pits conventional, imported flower arrangements against a powerful cadre of American floral tycoons who just won't take "no" for an answer is being waged.
As The New York Times reports today, a number of lobbyists representing the domestic flower industry have succeeded in pressuring the First Lady to use American-grown flowers in all White House arrangements. Didn't know there even was a flower lobby? Me neither! Here are a few choice details from fascinating story:
One Democrat from California (a major flower-producing state) even lobbied the President to switch to American-produced flowers on a trip aboard Air Force One—which also is decorated with regular bouquets.
According to the NYT, the trouble began "in 1991, the year the United States signed free trade agreements with several South American countries, most notably Colombia, which was soon flooding the American market with cheap, duty-free cut flowers. The United States cut-flower industry was devastated."
After the First Lady used American-grown bouquets at a recent state dinner, another Democrat from California wrote a meaning-laden thank you note: "I was so pleased to see that the dinner included blue and purple irises grown in my own state."
What flowers does the First Lady prefer? "Cymbidium orchids and looser, garden-style flower arrangements, less formal than in previous administrations and sometimes more dramatic."
Who knew even the floral arrangements were the subject of such heated debate—one that the NYT has participated in for decades, it turns out: This 1987 op-ed actually argues against promoting the interests of domestic flower growers. [The New York Times]
Image: Chip Somodevilla/Getty.