After the lawsuits and delays, this reader's experience—asking for a refund—truly puts JooJoo's reputation on the line. It feels written by a Nigerian scammer, rather than customer support. Here's their whole email exchange. You'll be the judge. Updated.
From: Rony Mirzaians
Date: Tue, Mar 16, 2010 at 10:59 AM
Subject: JooJoo Customer Experience
To: tips@gizmodo.com

I thought you guys might be interested in how JooJoo is handling customer refunds. It's quite simple actually, they are giving people the run around!

See my email string. This might be something worth sharing with people who want to buy a JooJoo:
Original order confirmation

On Fri, Feb 5, 2010 at 10:18 PM, joojoo <info@thejoojoo.com wrote:

Receipt Invoice Number
FSG259-143035
*Purchase Date:* 06 February 2010
*Email:* [EMAIL REMOVED]

*Billing Address:*
[ADDRESS REMOVED]

*Payment:*
PayPal *Shipping Address:*
Rony Mirzaians
[ADDRESS REMOVED]
*Additional Information:*

Shipping: you will receive delivery of your order within 8 - 10
weeks.

We will be in touch regularly to update you on status. Please contact
support@thejoojoo.com should you have any question

Item price qty sub total
JooJoo $499.00 1 $499.00
JooJoo Stand $29.99 1 $29.99

*TOTAL* *$528.99*
First request for refund

On Sat, Feb 27, 2010 at 9:25 PM, Rony Mirzaians wrote:

To Support,

I would like to cancel my Pre-Order of the JooJoo as with the push
back
in shipping date I dont think I will see the product until May!

Please let me know what is needed to cancel the Pre-Order

Thanks

Rony
JooJoo support's reply

On Tue, Mar 2, 2010 at 12:44 PM, Support Joojoo <support@thejoojoo.com
wrote:

Dear Rony,

We will revert on this within the next 24 hours.

Thank You.

JooJoo
Second request after 48 hours

On Fri, Mar 5, 2010 at 6:39 PM, Rony Mirzaians wrote:

Nobody has reverted and it's been 48 hours.

Please confirm cancellation and provide update asap

Thanks!
Joojoo's reply

Support Joojoo" <support@thejoojoo.com wrote:

Rony,

Your order has been cancelled and your cash refunded.

Thank You.

joojoo
Customer's reply

On Sun, Mar 14, 2010 at 7:39 PM, Rony Mirzaians wrote:

Gentlemen

My card has still not been credited and I will be reporting this directly
to my credit company as well as posting my experience on engaget, gizmodo,
and any consumerist.

Unless you send me proof that you have refunded .

Please advise
JooJoo's last reply

"Support Joojoo" <support@thejoojoo.com wrote:

Dear Rony,

We have checked this at our end and there seems to be a problem with
refunding via paypal.

To avoid any further wait time, could you send us your bank name, bank
account name, bank account number, sort or swift code and your bank address.

We will have a direct transfer done to your bank account. If you could
provide us the details today, we will ensure that the refund hits your bank
account by friday of this week.

Please advise . Sorry for the inconvenience caused.

Best,
joojoo
Final reply from customer

From: Rony Mirzaians
Date: Tue, Mar 16, 2010 at 7:25 AM
Subject: Re: [JooJoo] Purchase Receipt for Order FSG259-143035
To: Support Joojoo

There is no way I will send that.

It is charged on a credit card via paypal.

I use paypal all the time and never have problems refunding.

I am reporting this to my credit card company today.
Have you had a similar experience with Fusion Garage? Tell us in the comments or wrote to tips@gizmodo.com.
Update: Fusion Garage has sent us their version of the story:
Fusion Garage has been following up with a PayPal customer
representative on the topic of refunds. While the company has
successfully provided refunds via PayPal, we have experienced three
unique instances where PayPal has not been able to process a refund
quickly enough in response to a customer request.

While one customer opted to continue their joojoo order before this
information was delivered, in the other two instances the company noted
the PayPal issue to the customer, and offered to refund the amount paid
directly to their bank accounts.

This unusual step was taken to provide the two customers with a refund
in the most timely manner possible after an unanticipated delay. One
refund has been processed and we are working to resolve the other.
G/O Media may get a commission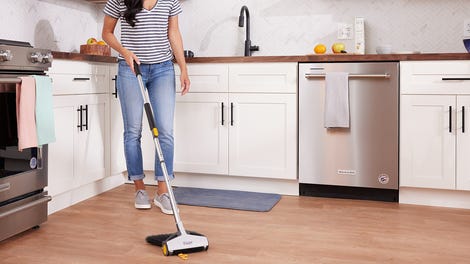 BOGO 50% Off
Flippr - BOGO 50% Off