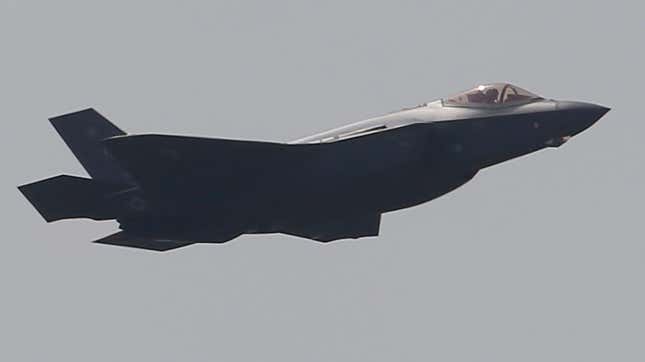 The Marine Corps lost an F-35B Lightning II fighter jet following a training "mishap" on Sunday. Military personnel are asking for help locating the F-35 jet after the pilot ejected himself from the F-35 and parachuted safely to the ground around 2 p.m. near Charleston, South Carolina.
Meet Microsoft's New Surface Laptops
The pilot was taken to a local hospital and is in stable condition, Joint Base Charleston reported in a Facebook post, saying the mishap involved "an F-35B Lightning II jet from Marine Fighter Attack Training Squadron (VMFAT) 501 with the 2nd Marine Aircraft Wing." Joint Base Charleston is working with the Marine Corps Air Station Beaufort to locate the F-35, focusing on the Northern area of the base surrounding Lake Moultrie and Lake Marion, Jeremy Huggins, a spokesperson at Joint Base Charleston told NBC News.
"Emergency response teams are still trying to locate the F-35," Joint Base Charleston said in the Facebook post. It added: "The public is asked to cooperate with military and civilian authorities as the effort continues."
A spokesman at Joint Base Charleston told NBC that the jet was still in auto-pilot mode when the pilot ejected, so there is still a chance that it's just hanging out in the air.
The lost jet has caused outrage among some politicians including Rep. Nancy Mace (R-South Carolina), who wrote on X, formerly called Twitter, "How in the hell do you lose an F-35? How is there not a tracking device and we're asking the public to what, find a jet and turn it in?"
Joint Base Charleston has yet to determine what caused the mishap, Huggins told The Washington Post, saying: "So that's why we put out the public request for help." He added: "The aircraft is stealth, so it has different coatings and different designs that make it more difficult than a normal aircraft to detect."
A 2020 Project On Government Oversight report found that each Marine Corps F-35B cost $135.8 million and is described as the "most advanced fighter jet in the world" and is the "most lethal, stealthy, and survivable aircraft," Aerospace giant Lockheed Martin says on its website.
The U.S. Government Accountability Office further said in a 2023 report that the F-35 Lightning II Joint Strike Fighter program is the most expensive weapon-system program in the Department of Defense's arsenal, estimating that American taxpayers would pay roughly $1.7 trillion to "buy, operate, and sustain the aircraft and systems over its lifetime."
Critics of the F-35 have characterized the program as a "boondoggle" that's "too big to fail." But it appears the jet's stealth capabilities seem to be working, at least.
Joint Base Charleston and the FAA did not immediately respond to Gizmodo's request for comment.
If you've seen the missing jet, military officials would really like you to let them know by calling 843-963-3600.