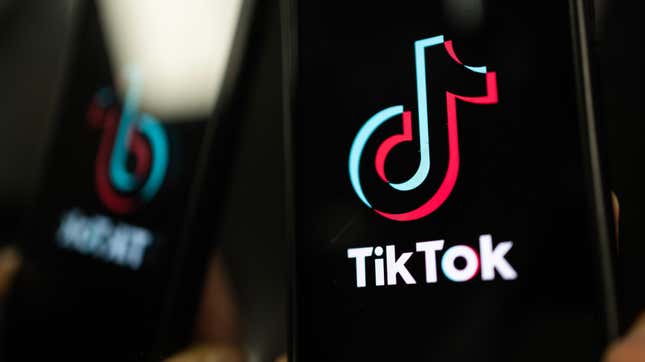 Montana made history on Friday by becoming the first state legislature to approve a wholesale TikTok ban affecting nearly all devices in the state. The first-of-its-kind ban, which goes far beyond previous state efforts banning the app on government devices, could set the precedent for a wave of TikTok bans in other Republican-led states. Widespread TikTok bans, for better or worse, could become a reality.
Will Banning TikTok Solve Privacy Issues? | Future Tech
The state's House of Representatives voted in favor of the bill, called SB 419, by a margin of 54-43 on Friday afternoon. Montana's state senate already approved the bill back in March, meaning the only thing preventing it from becoming law is a signature from governor and known journalist body-slammer Greg Gianforte. Once signed, the ban will take effect in January 2024. However, the bill would become void if Congress enacts its own national TikTok ban. The bill also wouldn't apply if TikTok divests its US business from Chinese ownership.
How would the ban work?
SB 419 prohibits TikTok from operating "within the territorial jurisdiction of Montana," over fears the app could be manipulated by the Chinese government for espionage purposes. If TikTok or app stores violate the law, Montana's Department of Justice could slap them with penalties of up to $10,000 per day for the length of the violation. Those fines would apply to entities facilitating TikTok's download rather than the app's users.
"TikTok endangers the safety of Montanans and Americans at large," Montana state Sen. Shelley Vance, one of the bill's primary authors said according to KTVH. "We know that beyond a doubt that TikTok's parent company ByteDance is operating as a surveillance arm of the Chinese Communist Party and gathers information about Americans against their will."
It's worth noting here that while numerous lawmakers and intelligence agencies have justified banning TikTok out of national security concerns, there's still no concrete evidence the Chinese government has even used TikTok to surveil American users. But previous reporting has shown ByteDance employees in China can and have been able to view US user data.
In an email to Gizmodo, a TikTok spokesperson said the bill amounted to censorship and would almost certainly be challenged by courts.
"We will continue to fight for TikTok users and creators in Montana whose livelihoods and First Amendment rights are threatened by this egregious government overreach," a TikTok spokesperson told Gizmodo.
Opponents of the Montana bill like the ACLU say it would violate the First Amendment and be a disaster for freedom of expression. In a letter sent to lawmakers earlier this week, the ACLU and five other civil liberties organizations said they had failed to prove TikTok poses any immediate harm to Montana residents.
"Montana's TikTok bill is censorship, plain and simple," ACLU senior policy counsel Jenna Leventoff said in a statement. "Montanans deserve better than to have their representatives violate their free speech rights by cutting them off from a unique platform that allows them to speak their minds, exchange information, and learn new things."
Did Montana just pave the way for a nationwide ban?
By approving the nation's first TikTok ban, Montana may have just given a green light to Republican lawmakers across the country to push forward with their own copycat bills. If that happens, TikTok may have no choice but to agree to a forced spinoff of its US business currently favored by the Biden Administration.
A patchwork of state TikTok bans could also encourage lawmakers in Congress to rip the band-aid off and pursue its own federal TikTok ban. While that seemed unlikely just a few months ago, lawmakers from both sides of the political aisle seemed united in their aggressive stance towards TikTok during a combative hearing with the company's CEO last month. There are currently around half a dozen bills floating around D.C. that, one way or another, would end up with TikTok banned.