Earlier this week, NBC News posted a map, "The Changing Face of America," to illustrate the shifting demographics in the United States. But cartographers and other data visualization experts were appalled by what they are already describing as the worst infographic of 2014.
Can you spot the number of things wrong with this map? For starters, there appears to be a wormhole stretching across the country that allows residents of California in 1960 to visit New York City in the year 2060. And, apparently, in the future, all Asian-Americans will be confined to a tiny strip of land in northern Maine.
The map, which is based upon an infographic published by the Pew Research Center as part of a study on "The New America," is an object lesson on data visualization lost in translation.
G/O Media may get a commission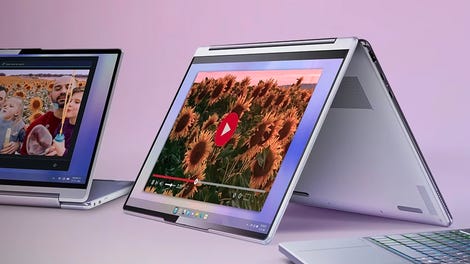 up to 70% off
Lenovo Spring Clearance
As Kenneth Field, a.k.a. the "Cartonerd," explains on his blog:
They've gone and clipped the rectangular graph using the shape of the U.S. to create what I am sure they thought of as an uber-information graphic. Clipping to a shape destroys the visual impression of relative areas across the chart since we have no baseline or simple geometry to anchor our understanding of the pattern. Without reapportioning the areas of the graph to the new shape it leaves some of the categories completely dissected and reduced in area relative to the rest.

...so all the white population live below a very specific curvy line— they get a lot of the west coast and southern states …There's a few thin strips across the rest of the northern latitudes for Asian, Hispanic and Black populations but seriously, I was under the impression that segregation ended decades ago…. and it looks like Alaska and the Hawaiian islands have undergone some sort of ethnic cleansing.

Another way to look at this map is that California, Oregon and Washington only existed in the 1960s and have been progressively been replaced over time with the eastern states. I guess for some that might be closer to reality than the map intended to suggest.