Climate change often feels like a big, abstract problem, but it's already having a tangible impact on communities worldwide. If you're curious how rising global temperatures will affect your neighborhood, a fascinating new forecast site can help you find out.
WXshift is a data-driven "weather channel" launched today by the nonprofit research and journalism outfit Climate Central. Like Weather.com or any other forecast site, you can plug in your city or zip code to get a detailed hourly, 7-day, or weekend weather prediction. But you also get the bigger picture. The website features a number of interactive tools that allow users to visualize historic climate trends and future projections on a city, state or regional scale.
For instance, by searching for today's forecast in Philadelphia, I learned that fall average temperatures in my region have risen about a degree and a half since 1970. Digging a little deeper, I can explore historic trends in snow and precipitation, and look at the number of anomalously hot and cold fall days in Philly all the way back to 1950. And I can peer into the future — the "2050 projection" for September 15th in Philadelphia is three degrees higher than the high temperature today.
Image via WXshift
Even better for nerds like me who like to see how everything fits together, WXshift collates information on a number of climate and weather events taking place worldwide. From the El Niño brewing in the Pacific to the wildfires raging out west, you can explore data-rich graphics and keep up on all the latest news about our changing planet. And you can quickly find out which of these phenomena have a direct impact on your region.
G/O Media may get a commission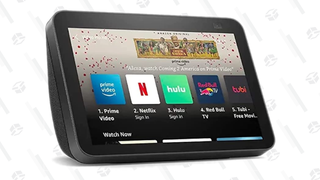 "If humanity has one binding thread, it is quite possibly the weather," Climate Central's Geoff Grant writes. "But weather is also how we are connected to the climate and the ways in which it's changing. It is how the greater forces of the atmosphere come home to roost in our daily lives."
So, next time you see ocean acidification or carbon pollution crop up in the news and your first instinct is to click away to something that's more relevant, take a moment to check out WXshift. The bigger picture might surprise you.
---
Follow the author @themadstone
Top image: Screencap via WXshift