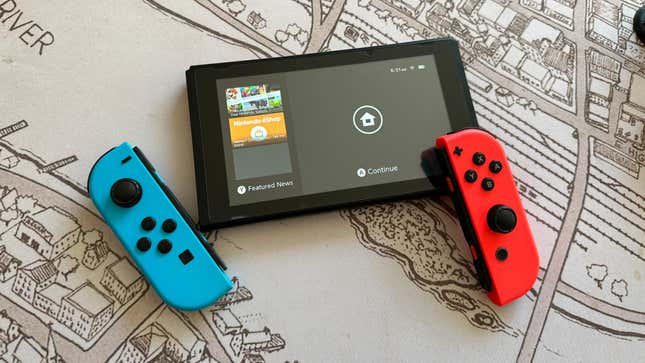 The hype cycle for the long-awaited Nintendo Switch sequel has officially begun. Nintendo was at the German games conference Gamescom this past month, and behind the curtain, the company was reportedly offering some developers the chance to demo a Switch sequel boasting better graphical capabilities than the company's current 7-year-old portable console.
What Was Your First Experience with Super Mario Bros? | io9 Interview
The news comes from Eurogamer, which based on unnamed sources wrote that developers had a front-row seat to the new Switch sequel hardware. They were reportedly shown a beefed-up version of The Legend of Zelda: Breath of the Wild, which came out at the same time as the Switch back in 2017.
The rumors were backed up by Windows Central's Jez Corden, who also shared rumors last month that Nintendo had discussed the Switch 2 behind closed doors.
There's still little to no information about how Nintendo plans to upgrade the Switch hardware, but considering the fact the console was relatively graphically limited even back in 2017, that shouldn't be hard to do. Even games like Legend of Zelda: Tears of the Kingdom which are optimized specifically for the Switch still chug at low framerates when there are a few things happening on screen at once.
Gizmodo reached out to Nintendo for comment, but we did not immediately hear back.
We're not getting a new console this year, but recent reports note that we could see the Switch sequel sometime in the latter half of 2024. It could have a bigger hard drive but keep the base LCD screen, likely to keep the device on the cheaper end. It will also still accept physical cartridges. This means the Switch sequel could likely be a simple iteration akin to the OLED Switch released back in 2021, and if it's playing Breath of the Wild perhaps the next console could be fully backward compatible.
Developer kits for the Switch 2 could already be out for Nintendo's key developers, at least according to reports, but it's unclear if there will be any launch titles to give the Switch 2 some legs. Nintendo is releasing a new Mario sidescroller, Super Mario Bros. Wonder, in time for this Christmas alongside Detective Pikachu Returns and a remake of the Super Mario RPG. Retro Studios is still working on the long-awaited Metroid Prime 4, but that game still doesn't have a release date, making it a potential contender for one of the first titles on Nintendo's next portable console.
---
Want more of Gizmodo's consumer electronics picks? Check out our guides to the best phones, best laptops, best cameras, best televisions, best printers, and best tablets. If you want to learn about the next big thing, see our guide to everything we know about the iPhone 15. Click here to save on the best deals of the day, courtesy of our friends at The Inventory.