Welcome to another week of great apps where Android plays catch up, legendary apps on iOS get even better, and Windows Phone adds a selfie app that can rival the best out there. It's The Best Apps of the Week. Take a look.
---
Android
Back in January 2014, Genius—the web service known for annotating basically everything—went mobile, launching an app for iOS. It only took a year and a half, but Android users are finally getting some love. It's also just in time for the apps major redesign for iOS. If you're a serial karaoke singer or just find yourself in fights with friends on what the lyrics really mean, then this app has been a long time coming. [Free]
G/O Media may get a commission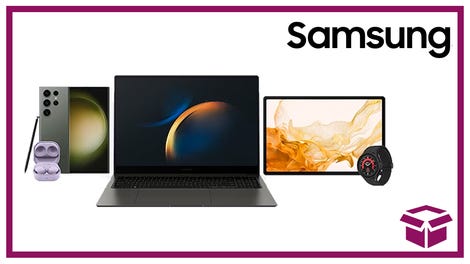 24 hour deals
Discover Samsung - Daily Deal
Every time I use good ole TextEdit on my Mac, I almost always immediately enable "make plain text." I'm not exactly sure why but I think I just like the simplicity of it. Just the words I'm typing on a stark white background—that's it. And with smartphone—and lives—that sometimes seemed filled with superfluous bullshit, it's nice to have a little bit of minimalism for certain things. That's why Monospace Writer is so great. It's a no-BS text editor that you just might make your go-to note-taking application. [Free]
---
iOS
Sway isn't exactly new. It's been languishing in preview for 10 months now. But Microsoft is finally ready for a full general release of Sway, office's latest productivity tool. Imagine Sway as Powerpoint built for the mobile world we live in. It's next level presentations, perfect for classrooms or modern-day scrapbooks. The best part is Sway's intuitive design engine, which takes a lot of the heavy lifting out of actually making something look good so you can focus on the content first and foremost. [Free]
When I would send texts on my old iPhone 5, I'd keep GIFs and memes hidden away in my photo gallery in case some moment called for a famous piece of internet hilarity. Only problem? When reminiscing through old photos, they'd always be filled with Take My Money Philip J. Fry's and some cat GIF or another. Not exactly organized. GIF Wallet is an iOS keyboard to help bring some organization to your GIF-sharing life so when you need to GIF a reaction, it's all right there at your fingertips. Nnnnice. [Free]
Darkroom has long been a go-to photo editing app for iOS, but now it's even better in Darkroom 2. The two coolest additions are advanced coloring control on photos and also filter sharing among friends, so if someone likes one of your filters—you can just give it to them. Neat! If you haven't been using Darkroom yet, now's the time to start, but you'll need to fork over some cash for all the pro-level features. [$4]
---
Windows Phone
This is a selfie generation, and B612 is the app made for it. From the creators of LINE, B612 has been slow coming to Windows Phone (it's already on Android and iOS), but it focuses just on making the best selfies possible. It can obviously do filters, but also a bunch of other editing options like creating vignettes and collages. B612 has stiff competition for Lumia users with the Lumia Selfie app, but the B612 app can also get the job done. [Free]
Contact the author at darren.orf@gizmodo.com.