The 8th season of SyFy's monster makeup reality competition Face Off wrapped up this week, so it's a good time to look back at the scariest, most badass, beautiful or just flat out awesome creatures from the entire season. Plus, we interviewed season 8 winner Darla Edin.
This season, Face Off brought back three previous champions — Laura Tyler, Rayce Bird, and Anthony Kosar — to mentor the new competitors. The winning mentor also earned a Face Off win, and since winner Darla Edin was one of Laura Tyler's mentees, it makes Tyler Face Off's only two-time winner.
This was a solid, fun season of Face Off — having the mentors around was cool, although the competitive aspect of it kind of fizzled. Kosar's entire team was eliminated early, and we came very close to having three of Tyler's team members sweep the final three (only a very questionable judging decision in the next-to-last episode avoided that particular anti-climax). Still, all three finalists were immensely talented: Logan Long, youngest ever Face Off competitor Emily Serpico, and Darla Edin. Edin answered all our questions about what it's like competing on Face Off.
io9: Hi Darla! Congratulations on the Face Off win. Were you a big Face Off fan going into this season?
Darla Edin: Thank you so much! Yes, I was a fan of the show! Season 1 of Face Off came out right around the time I was considering going to school for Special Effects Make-Up and watching the show really inspired me to go for it!
G/O Media may get a commission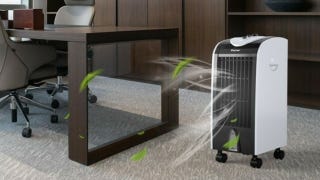 Save $10
Evaporative Portable Air Conditioner Cooler with Filter Knob
I loved your creepy doll and your Jack of Hearts. Is there a makeup of yours from this season that stands out as a favorite?
Edin: The porcelain doll was definitely my favorite! I really liked the challenge and I just love how everything came together on application day with the paint job and the wig and the wardrobe!
You had Laura Tyler as your mentor throughout the season, and she really seemed to have a calming influence when the challenges got too insane and hectic. What was it like working with a past Face Off champion?
Edin: Working with someone who has been through the process was such a great experience. Laura knows the ins and outs of Face Off. She knows what it's like working under such a major time restriction so she was really helpful in terms of time management. And yes, she knows the importance of keeping calm when things get hectic so she was able pass that on to me!
I love seeing the artists on Face Off learn or discover new techniques. Is there something like that from this season that helped expand your abilities as a makeup artist and designer?
Edin: For me it was all about picking up little things here and there from the other contestants and the coaches. I learned some new tricks for sculpting and painting, but I think the biggest thing for me was fabrication. I had never done any fabrication before the show, so being able to watch what other people were doing and listening to Laura's advice, I was able to try my hand at fabrication and now I look forward to doing more of that!
On Face Off you have to do everything from concept to painting, but I know on a real set everyone tends to have a specialty. Is there an aspect of makeup and creature design that tends to be your particular niche?
Edin: I would say that the application and painting process is my biggest strength, so if I had to pick a "niche" it would be that. I studied Make-Up at Vancouver Film School and one of the biggest things they stressed was finished, camera-ready make-up so that is what I strive for with every application I do.
How big of a deal has Face Off become in the make-up/FX community? It seems like a lot of contestants use it as a launching pad, but do you get the sense that producers or effects studios are scouting talent by watching the show?
Edin: I don't know if people are "scouting" from the show, but there is a lot of exposure and I hope that I can use the momentum from this experience to further my career as an FX Artist.
What projects do you have lined up for the rest of 2015?
Edin: I do have a few projects lined up for the rest of the year, but at this point they are all still in pre-production so I can't really talk about them yet. All I can say is that I am very excited about what is coming up!
---
Now, here's our favorite creatures and costumes from this season of the show!
The judges did not like this alien created by a team of Kelly, Alan, Ben, Daniel, and Jamie, but I like the malevolent look about him. Properly lit, he'd make a great alien enemy.
Rob and Jamie combined a piranha with some kind of plant to come up with this monstrosity.
Kelly's Queen of Spades has this psychotic evil nun thing going on (I know she's really a judge). I thought Kelly got a raw deal and should have made it much deeper into the season.
Darla's Jack of Hearts is a very disturbing flesh sculpture and quite a fascinating character.
The clockwork doll concept isn't exactly new to Face Off, but Kelly and Steph executed it perfectly.
I seem to have a thing for classic demons in black leather (don't read too much into that). Julian and Ben created this one.
Adam's troll has all kinds of interesting shapes, and so much character you can easily imagine him as part of a fantasy epic.
Ben's troll, on the other hand, is weird and contemporary and utterly bizarre, and I always love when someone on Face Off makes something totally off the wall like this.
Emily's Clive Barker monster is just so different. That weird head shape shouldn't work, but it does. If I recall, there were supposed to be some kind of feather elements on the head that didn't work out.
This photo doesn't really capture how cool this fashion creature by Ben was. The textures and unusual shapes all worked together in a way that's hard to explain.
Kelly's fashion demon was super disturbing. I have a soft spot for Face Off contestants that are super into horror, and Kelly always delivered.
Adam made himself into a superhero, and this isn't even really much of a makeup, but he's got dual arm cannons and you can't argue with that.
Adam again, with this amazing megazord/kaiju fur-monster.
Darla's terrifying porcelain doll.
Emily's nearly faceless rag doll, probably the scariest creature of the season. Emily couldn't quite match Darla's "Spirits of Eden" in the finale, but it was obvious all season that Emily is ridiculously talented.
All image credits: NBCUniversal.